Digital Orthophoto Quarter Quarter Quadrangle (DOQQQ)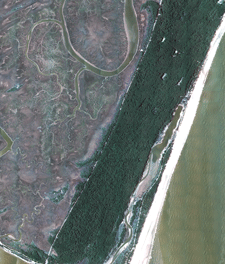 The digital orthophotography was produced as part of the South Carolina Oyster Beds Imaging effort to support the mapping of intertidal oyster reefs. The project area was over specified areas of the South Carolina coastal critical zone where oysters have been traditionally mapped by the South Carolina Department of Natural Resources, Marine Division.
The digital orthophotos in this series have a theoretical ground resolution of 0.25 meter. The extent of the DOQQQs for the project area range from the Hilton Head area in the southern part of South Carolina to the Myrtle Beach area in the northern part of the state. The Imagery flight dates are 2003-2006 taken in the spring - fall. OCRM, SCDHEC extended the project area up to the saltwater/freshwater line and imagery flight dates are 2006-2007 taken in the spring - fall. A compressed version of the images are available in both Natural Color and Color-infrared.
A DOQQQ can be incorporated into any geographic information system (GIS) that can manipulate raster images. It can function as a cartographic base for displaying, generating, and modifying associated digital data.
Project Partners include:
Geographic Coordinate System
UTM, Zone 17, Meters, Datum NAD83
Compressed Format for DOQQQ Data
JPEG2000
Status map of available DOQQQ
Viewing JPEG2000 Images
To view the imagery, you will need computer mapping software. The TatukGIS Viewer is a free viewer available from TatukGIS. For other software programs, please consult your particular software's help to determine compatibility with this format and any required software updates and/or plugins.
Download Available DOQQQ
Data and data sets are available for download at no cost from DNR's ftp site:
DOQQQ Index, ESRI Shapefile (ZIP)