Wall & Printable Maps
Map Products

Geologic Publications and Maps

Various materials related to South Carolina geology are available for a nominal fee to cover printing and shipping cost from the Geological Survey at DNR. Topics include SC minerals and rocks, geologic maps, Geologic Quadrangle Maps, Open-File Maps and reports, Field Trip Guidebooks, mineral resources series, and other related topics.
South Carolina Flood Maps



The South Carolina Flood Mitigation Program at DNR provides access to floodplain maps produced by the Federal Emergency Management Agency (FEMA). A complete set of reference maps for South Carolina is available and staff are available to answer questions and provide assistance to map users.
Printable Maps
Downloadable printable maps below are in Adobe PDF format.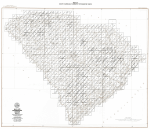 South Carolina 7.5-Minute Topographic Maps Index The following index shows the boundary for USGS 7.5-minute (1:24,000 scale) Topographic quadrangles for South Carolina. The map includes the name of the quadrangle with some basic reference data.

Map size: 22 x 17 inches (1,584 x 1,224 pt)
File size: 3.9 MB
---
SCDNR Game Zones Statewide map showing SCDNR Game Zones with labeled counties.

Map Size: 8.5 x 11 inches
File size: < 1MB
---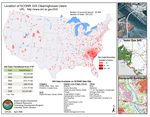 SCDNR GIS Clearinghouse Users The following map shows the distribution of users who access the SCDNR GIS Clearinghouse to download GIS related data sets. Map was produced by the Technology Development Program.
Map Size: 8.5 x 11 inches
File size: 1.5MB
---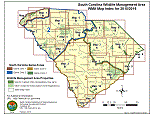 SCDNR Wildlife Management Area Map Index Index map showing the area a Wildlife Management Area map covers.

Map Size:8.5 x 11 inches
File size: < 1MB