Current GIS Activities
Kiosk Project for DNR Managed Lands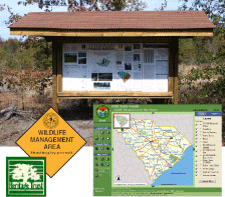 A kiosk project has been undertaken to create a uniform look and feel for all kiosks on SCDNR public lands, both owned and managed by SCDNR, while allowing flexibly to address each specific property's needs. Property information maintained and collected by various department staff is being centralized into the agency database and GIS SDE layers for this project. This information will be used in the Kiosk project as well as replace 450+ static web pages with searchable web pages pulling information from the agency database. Various GIS layers will be developed to support the mapping portion of this project and allow the public to find additional information about a property through an online web mapping application.
DNR Project Contact: Amanda Londo, Public Information Director, WWF
River Guide for State Scenic River (Lynches River)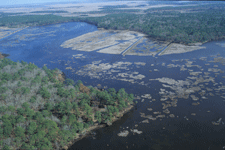 A river guide for Lynches River, one of South Carolina's State Scenic River, is being created. Starting at US 15 boat landing in Lee County, this 54-mile scenic section flows through three other counties (Darlington, Florence, and Sumter County). Photos, maps, geologic, and history will be included about the Lynches River. Guide maps will contain topographic strip maps with various labeled points of interest, recommended route, and a geographic coordinate grid. All major topographic features will be labeled. Points of interest will include put in/take-out locations, cultural and natural history, and reference markers. The guide will be printed on waterproof paper to ensure durability. The guide will be made available for distribution to the public when completed.
DNR Project Contact: Bill Marshall