Deputy Director for Wildlife
and Freshwater Fisheries Division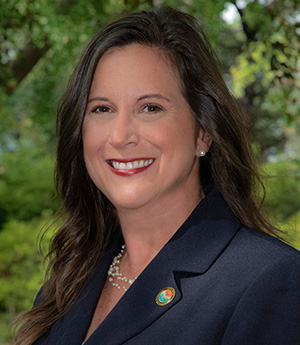 Wildlife and Freshwater Fisheries Fact Sheet
Emily Cope
Emily Cope is the Deputy Director of the Wildlife and Freshwater Fisheries Division. In addition to managing wildlife and freshwater fish species across the state, this division is also responsible for management of endangered species programs, wildlife management areas, heritage preserves, fish hatcheries, and state lakes. Prior to this, Emily served as Assistant Director for DNR and worked on special projects and national affairs where she negotiated real property acquisitions and secured funding for such activities. She also was responsible for identifying potential issues within DNR and working with senior staff to resolve and address such concerns. Emily's other prior positions include serving as a habitat protection coordinator, an assistant regional wildlife biologist and as the Forest Stewardship program supervisor.
Emily earned her M.S. in Wildlife Biology in 1999 from Clemson University after earning her B.S. in Wildlife Biology in 1997 also from Clemson University. She began her career with DNR in 1999 and has held numerous positions within the agency. The primary activities of her career have involved providing technical assistant to landowners, supervising habitat protection efforts across South Carolina and building partnerships to support the mission of DNR.
Emily resides in Prosperity with her husband, Ken, and their two children.