Deputy Director for Law Enforcement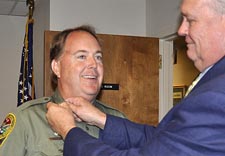 Colonel Chisolm Frampton
Colonel Frampton is a veteran state wildlife law enforcement officer and is the leader of the S.C. Department of Natural Resources (DNR) Law Enforcement Division.
Frampton, a Charleston native, replaced Col. Alvin Taylor as deputy director of the DNR Law Enforcement Division.
A graduate of College of Charleston, Frampton also graduated from the S.C. Criminal Justice Academy. In 1993, Frampton joined DNR as a private first class. He has served as a sergeant, lieutenant, captain, and more recently as major. Colonel Frampton also served four years on the Executive Protection (Governor's Detail) for then Gov. David Beasley.
Among his many honors and awards, Colonel Frampton has been cited by the U.S. Coast Guard for the Meritorious Service Medal for maritime security. He was also awarded the state's highest honor, the Order of the Palmetto, in 1998.

Frampton currently resides in Charleston with his wife and two children.