Be a Site Captain...
Do you have a group of people, perhaps a scout troop, a class, a church, civic organization or business that would like to get involved in Beach Sweep River Sweep? Do you know an area that is trashed? Why not organize a cleanup for your group or for that site that needs help?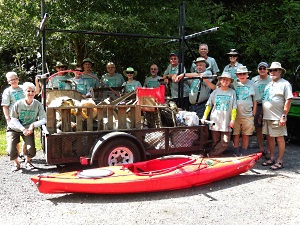 Site Captains have four primary responsibilities:
identify a littered water body and a particular area to clean
recruit volunteers, organize and conduct your own cleanup
arrange for proper disposal of the trash you collect
report the results from your own cleanup
If you choose to be a site captain, we will provide you with information and supplies to include a site captain manual, data cards to report your cleanup results, trash bags, a T-shirt (all site captains receive a complementary shirt), and a T-shirt order form (in case you want some extra t-shirts). We can also assist you in recruiting volunteers by forwarding you the names of people in your area who contact us to volunteer. Deadline for Site Captain Registration is Sept. 4, 2021.
Site Captain Registration (on-line form)
More information is available in the Site Captain Manual (PDF) to addresses common questions about being a site captain and assist volunteers in planning their Beach Sweep/River Sweep cleanup event.