Why is picking up trash so important?
What is the big deal?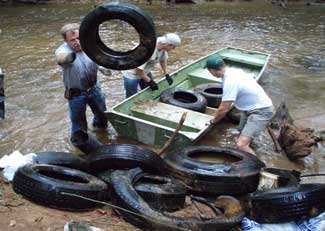 It doesn't matter what you call it, trash, litter, aquatic debris, or junk - it's dangerous to our safety, our wildlife, and our economy. Aquatic debris is a threat to our favorite recreational activities - like swimming, boating, and fishing. Wildlife are harmed each year because they mistake litter and plastic debris for food or become entangled in ropes and lines. The beauty of South Carolina is well known, our state thrives on the recreation and tourism industry - who would want to visit a trashy state? By picking up trash at a Beach Sweep River Sweep event two important things happen:
Participants take action against pollution. They see first-hand the negative effects litter and aquatic debris have on our rivers, creeks, lakes, beaches, marshes, and swamps.
Participants record the trash collected. It may sound strange, or even bothersome, but by keeping track of the litter that is cleaned up we can learn important things about aquatic debris. For instance, information collected in 2004 told us that cigarettes, food wrappers, caps, and lids made up nearly half of all the litter collected. This type of information helps organizations like the South Carolina Department of Natural Resources, The Ocean Conservancy, and South Carolina Sea Grant Consortium better target education programs and awareness campaigns to prevent litter from happening.

The big deal is:
More than 145,000 South Carolinians have participated in Beach Sweep River Sweep since it began in 1988.
More than 1200 tons of aquatic debris have been cleaned from South Carolina's waterways since 1988.
An estimated 1.4 million dollars were saved by the state of South Carolina as a result of the efforts of Beach Sweep River Sweep site captains and volunteers from 1988-1998 (1998 Watchdog for the Taxpayer's Award)
All 50 states and several territories of the United States sponsor waterway clean-up events on the same day every year - the third Saturday in September.
75 countries, including the US, come together on the same day each year to make a difference and keep our waterways clean and our environment healthy
To volunteer contact us.