Carolina's Community Collaborative Rain, Hail, and Snow Network (CoCoRaHS)
The 2012 South Carolina CoCoRaHS Newsletter (PDF)
The 2013 South Carolina CoCoRaHS Newsletter (PDF)
The 2014 South Carolina CoCoRaHS Newsletter (PDF)
The 2016 South Carolina CoCoRaHS Newsletter (PDF)
The 2017 South Carolina CoCoRaHS Newsletter (PDF)
The 2018 South Carolina CoCoRaHS Newsletter (PDF)
The 2019 South Carolina CoCoRaHS Newsletter (PDF)
The 2020 South Carolina CoCoRaHS Newsletter (PDF)
The 2021 South Carolina CoCoRaHS Newsletter (PDF)
The 2022 South Carolina CoCoRaHS Newsletter (PDF)

CoCoRaHS is a grassroots volunteer network of backyard weather observers of all ages and backgrounds working together to measure and map precipitation (rain, hail, and snow) in their local communities. Many thanks to those who continue to devote their time to CoCoRaHS and to the 173 volunteers who have reached a milestone of five years volunteering for CoCoRaHS. Without your dedication, the success of the program would not happen. Our recruitment of volunteers during last year's CoCoRaHS March Madness was outstanding! This annual competition between all 50 states is an effort to see which state can recruit the most volunteers in March.
Some counties' participation continues to expand. Greenville now has almost 30 dedicated observers. We would like to see this enthusiasm spread statewide. However, many counties have such sparse coverage that major storms can pass by, but miss the few gauges in the area (Figure 1). Rain events can produce more than three inches of rain in some areas; meanwhile, areas just a few miles away receive little to no rainfall. If we want to accurately document rainfall variability, we need dozens of gauges in each county. At the end of the article, we provide an example of how additional observers were important in recording the rainfall during South Carolina's historic October 2015 flood.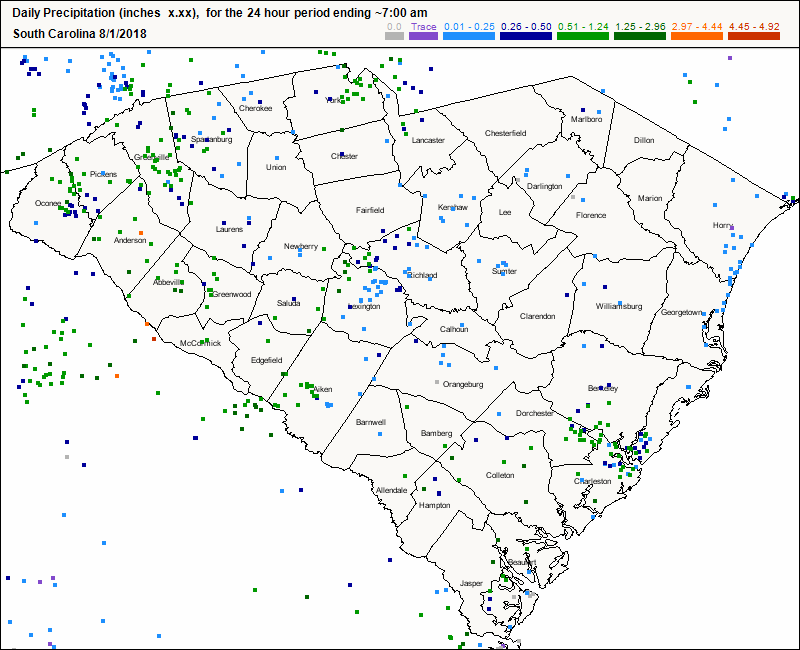 Figure 1. August 1, 2018 CoCoRaHS rainfall observations
If you know someone who is interested in weather and will be willing to make the commitment, please encourage them to get involved in CoCoRaHS. Together, we can continue to make CoCoRaHS a valuable resource.
Becoming a CoCoRaHS Weather Observer
Everyone can help. Here are the basic requirements for being a CoCoRaHS weather observer:
(1)Have access to the internet and the ability to enter your daily precipitation data.
(2) Have an official-type CoCoRaHS rain gauge.
(3) Have a site on your property with good exposure, as free of trees and obstructions as possible, and where you can place the rain gauge about five feet off the ground.
(4) Take the online CoCoRaHS observer training course.
(5) Be willing to enter your precipitation data on a daily basis through the CoCoRaHS website.
CoCoRaHS and the October 2015 Historic Rain and Flood Event
In South Carolina, the historic heavy rainfall event of October 1-5, 2015 produced record rainfall rates and totals. Without CoCoRaHS, we would not have been able to accurately document the extreme range in rainfall values. This local variability is too great to be picked up by Doppler radar. With the additional volunteers, there were more than four times the amount of CoCoRaHS daily precipitation reports than those from the National Weather Service (NWS) Cooperative Observer Program (COOP) stations during the flood. The dedication and service by CoCoRaHS volunteers was essential. The highest October flood event rainfall total (26.88") was recorded by a CoCoRaHS volunteer in Mt. Pleasant (Mt. Pleasant 6.4 NE). For more information about the flood, visit our interactive journal
2018 CoCoRaHS Goals
CoCoRaHS observers are invaluable and the longer your record of observation, the more useful your data becomes. Every observation, just like every drop of rain counts, but don't forget to enter when it doesn't rain. Entering zeros helps remove uncertainty about what occurred at your location. It is just as important to know who did not receive any rain as who did.

Three goals moving forward are to improve our retention rates, increase our active observers by county, and reduce the number of missing reports.

To all current CoCoRaHS volunteers, thank you for your hard work and dedication. Please don't hesitate to contact us if you have any questions or comments.

South Carolina State Climatology Office Staff:
Hope Mizzell, PhD, State Climatologist
Melissa Griffin, Assistant State Climatologist
Mark Malsick, Severe Weather Liaison
Leah Moore, Research Intern


Contact: Hope Mizzell (803)-734-9568 or Melissa Griffin (803) 734-9091
SOUTH CAROLINA REGIONAL COORDINATORS
South Carolina Northeast Region
South Carolina Southeast Region
Josh Weiss
National Weather Service
Weather Forecast Office Wilmington
2015 Gardner Drive
Wilmington, NC 28405
910-762-4289
joshua.weiss@noaa.gov
Julie Packett, Emily Timte
National Weather Service
Weather Forecast Office Charleston
5777 S. Aviation Ave.
Charleston, SC 29406
843-747-5860
julie.packett@noaa
emily.timte@noaa.gov
South Carolina Midlands Region
South Carolina Upstate Region
Leonard Vaughan
National Weather Service
Weather Forecast Office Columbia
2909 Aviation Way
West Columbia, SC 29170-2102
803-765-5501
leonard.vaughan@noaa.gov
Jeffrey Taylor, Christopher Horne
National Weather Service
Weather Forecast Office Greer
1549 GSP Drive
Greer, SC 29651
(864) 848-3859
jeff.taylor@noaa.gov
christopher.horne@noaa.gov