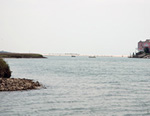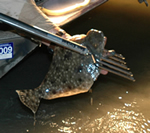 The Flounder Research Project is the most comprehensive assessment of South Carolina's flounder fishery the South Carolina Department of Natural Resources has conducted. The project has two main goals. One, assess the gig fishery for flounder in South Carolina. To accomplish this we will be conducting night time creel surveys at public boat landings to obtain critical biological data on flounder taken by gig. Two, document the fall migration of southern flounder to offshore waters and identify spawning areas off the South Carolina coast. To accomplish this we will be conducting dives in offshore waters in the fall/winter months and seeking cooperation from recreational spear fisherman to obtain racks from flounder taken near South Carolina's offshore reefs.
There are three species of flounder found in South Carolina's coastal waters that are of commercial and recreational importance. They are southern, summer and gulf flounder. Each species is unique in appearance and habitat requirements. On this page is a very basic key for identifying the three species most commonly seen by South Carolina's anglers.
Several spawning areas for gulf flounder have been located at various artificial reefs off the South Carolina coast. Peak spawning season ranges from December through March, and females may spawn every 3 days on average during this period. The exact spawning locations for southern flounder continue to remain elusive, although many have been collected at offshore dive sites at the beginning and end of their spawning season. These results could not have been obtained without the support and cooperation of local recreational anglers, and your participation has been essential to this study. This study is ongoing and we continue to be interested in obtaining samples of southern, gulf, and summer flounders.
Cooperation from both commercial and recreational anglers is key to the success of the Flounder Research Project. If you would like to find out more about the ongoing work and how you can assist DNR biologists collecting data please contact project staff by telephone or email at: 843-953-9847 or floydb@dnr.sc.gov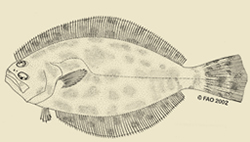 Southern Flounder
(Paralichthys lethostigma)
Most abundant in lower salinity
estuary waters. Migrates offshore
in fall and winter months to spawn.
Lacks ocellated, eye-like, spots.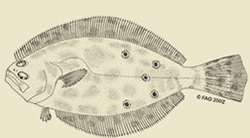 Summer Flounder
(Paralichthys dentatus)
Most abundant in moderate
salinity nearshore waters.
Five ocellated, eye-like, spots
near the tail.

Gulf Flounder
(Paralichthys albigutta)
Most abundant in high salinity
waters around offshore reefs.
Three ocellated, eye-like, spots
in triangular pattern.
[ Back to top ]
---