SCDNR Job Openings
SCDNR Law Enforcement Officer Applicant Process
In order to perform the job effectively, the officers must have a thorough knowledge of both state and federal boating, hunting, and fishing laws. Officers are also expected to know and be able to enforce all other state laws. They must keep current on all state laws.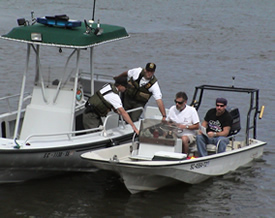 Law Enforcement Officers spend most of their working time on patrol. They have very irregular schedules and spend most of their time outdoors. Most of their leisure time must be scheduled in direct conflict with the times that other members of their families may have free. They must have flexible and understanding family relationships. If an officer is married his/her spouse must be able to accept many situations that can be very disruptive to family life. Often family outings or get-togethers will have to be cancelled due to a last minute work emergency. It is necessary that the officer's family understand and support the idea that the job must come first.
Officers must be physically fit and have stamina and endurance. Officers must be able to ride on rough roads or water for long periods of time. Often they must walk long distances on rough terrain, through marsh, or swamps in heavy boots. Many of the officer's working hours are spent alone, day and night; therefore, they must be able to navigate alone in daylight or darkness, in all kinds of weather, and on all types of terrain. Officers are often exposed to extreme weather conditions; therefore, they must be able to tolerate very hot, subfreezing rainy, or dry environmental conditions. Officers must be prepared to tolerate insects and pests. When officers detect problems, they must use logic in seeking solutions. Officers must be able to communicate with a wide variety of people and situations and must sometimes tolerate abusive behavior from the public. Officers are held accountable for the safe and responsible handling of bond monies.
Officers are involved in search and rescue operations. They sometimes are exposed to morbid sights and unpleasant smells and they must be able to tolerate being exposed to decomposing flesh and death. Officers must be able to communicate tactfully with the families of lost or deceased persons.
To be an effective officer, a person must have compassion for wildlife and be strongly motivated to protect natural resources. Officers must be skilled in map reading, operation of vehicles, and able to defend themselves and other law enforcement officers. They must be able to cope with problems as they arise without assistance.
Tattoos and Body Art
No tattoos or body art are permitted on the neck, face, head, legs, arms, the area of the chest that is visible, or any other part of the body that would be visible while wearing any DNR uniform or official attire.
Official attire or uniform includes field uniform (summer and winter) and boating uniform including shorts.
Officers may not cover tattoos or brands with bandages or make-up in order to comply with this requirement.
Officers are prohibited from willful mutilation of the body or any body parts in any manner. Examples include, but are not limited to, tongue bifurcation (splitting of the tongue) or ear gauging (enlarged holes in the lobe of the ear, which are greater than 1.6mm).
Application Requirements
You must apply online at https://www.governmentjobs.com/careers/sc. After submitting the on-line application, please mail in the following two documents to DNR-Human Resources Office, P.O. Box 167 Columbia, SC 29202.
an official copy of your 10 year driving record from the DMV
a copy of your college transcripts
Our process has changed. Please do not send any other documents at this time, thank you. Other documents may be requested at a later date.
Minimum Requirements to Apply
Must be at least 21 years of age,
Be a U.S. citizen,
Completed high school or a recognized equivalence,
Possess a bachelor's degree; or an associate's degree (or two (2) years of college credit (60) semester credit hours) combined with either two (2) years of related experience or four (4) years service as a SCDNR DLEO. (Related experience will be reviewed on a case-by-case basis. Examples of related experience may include, but not be limited to, active military in security positions or class 1 law enforcement experience.),
No record of conviction of violation of state or federal game and fish laws within the past three years,
No record of convictions of any criminal offense that carries a sentence of one year or more or any criminal offense that involves moral turpitude,
No record of felony convictions,
Be a person of good character, which includes, but is not limited to:

Holds a valid current South Carolina driver's license with no record during the previous five years for suspension of driver's license as a result of driving under the influence of alcoholic beverages or dangerous drugs, driving while impaired, reckless homicide, involuntary manslaughter, or leaving the scene of an accident.
Credit check.
Consideration to all violations of the law including traffic and conservation law convictions and criminal offenses.

Meets all criteria to be certified as a class 1 law enforcement officer by the SC Criminal Justice Academy, and
If selected for a position, employee must relocate to assigned county within 90 days.
Applicant Process
Mailing Application:
Upon request submit the following completed documents to:
S.C. Department of Natural Resources
Office of Human Resources
P.O. Box 167
Columbia, South Carolina 29202

Copy of Completed Online Application from https://www.governmentjobs.com/careers/sc
Copy of Birth Certificate
Copy of High School Diploma (or GED) or transcript showing completion
Copy of valid driver's license
Disclosure Form (PDF) for credit check
Step 1:
If the applicant meets all minimum requirements and is selected, he/she will be scheduled for an interview before the Law Enforcement Interview Panel.
Step 2:
After the panel interview, those applicants who are selected for further consideration will be required to pass a Written Exam and Physical Agility test. The physical agility test consists of negotiating an obstacle course, dragging 150 lbs. Applicants must also meet swimming requirements, which include swimming 75 yards and treading water 5 minutes. The swimming requirement must be met by the end of Basic Training at SCCJA and DNR's Wildlife Basic, approximately 20 weeks.
Note: If applicant fails either the written exam or the agility test he/she will be eliminated from the process and must reapply for the next hiring cycle.
Step 3:
The Colonel (Deputy Director of Law Enforcement) will interview the applicants who pass the Written Exam and Physical Agility Test. The Colonel will make the final selections and the successful candidates must then pass an extensive background investigation. Note: Applicants will be in Columbia and away from his/her present job on at least 3 occasions during the selection process.
Step 4:
Once an applicant is successful on the above and is conditionally offered the position of DNR Law Enforcement Officer, a medical examination, color blindness test, drug screen, and psychological test will be administered at no cost to the applicant. The applicant must meet the physical and psychological standards set by the department for this position. Such requirements include good hearing, night vision and eyesight correctable to 20/20.
Employment
Upon employment, each officer will attend a basic training course at the South Carolina Criminal Justice Academy. The basic training course lasts twelve weeks and is provided at no cost to the employee. The officer will be tested weekly. Immediately following the basic training course, the officer attends an eight week training course specific to the DNR Law Enforcement Officer. Employees must plan to stay overnight at the Academy during the training period, but are permitted to go home on weekends.
Starting Salary: $38,250.00
State benefits are provided to each employee of the S.C. Department of Natural Resources (See Benefits Brochure). Officers participate in the Police Officer Retirement System. The Department will provide uniforms and all necessary equipment at no cost to the officer. Additional post employment training is available.