South Carolina Clean Marinas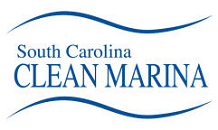 The South Carolina Clean Marina Program is administered by the National Marine Manufacturers Association South Carolina in partnership with the SC Department of Health &amp Environmental Control's Office of Coastal Resource Management and the SC Department of Natural Resources.
The information provided below is from the NMMA's Clean Marina Program.
---
Coastal
Loggerhead Rivers Edge Marina, N. Charleston
Charleston Harbor Marina, Mt. Pleasant
Harbor Town Yacht Basin, Hilton Head
Downtown Marina Beaufort, Beaufort
Cricket Cove Marina, Little River
Georgetown Landing Marina, Georgetown
Myrtle Beach Yacht Club, Little River
Port Royal Landing Marina, Port Royal
Wilson Landing, Bluffton
Reserve Harbor Yacht Club, Pawleys Island
City Boatyard, Charleston
Safe Harbor Charleston City Marina, Charleston
Long Cove Club, Hilton Head
Wexford Harbor Marina, Hilton Head
Bristol Marina, Charleston
Shelter Cove Marina, Hilton Head
St. Johns Yacht Harbor, Johns Island
Cooper River Marina, N. Charleston
Osprey Marina, Myrtle Beach
Skull Creek Marina, Hilton Head
Inland
Lighthouse Marina, Chapin, Lake Murray
River Hills Marina Club, Lake Wylie
Plum Branch Yacht Club, Plum Branch
For more information on the Clean Marina program, contact Suzi DuRant, sdurant@nmma.org.