Marina Information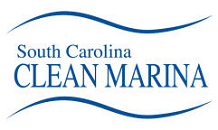 Frequently Asked Questions
1. How does a Marina purchase a Pumpout with Federal Funds?
Marinas must first contact DHEC in order to get a permit for a pumpout or dump station. Then, a proposal must be submitted to SCDNR with cost estimates on the pump, plumbing, and electrical. Once the proposal is approved, then a contract will be drafted so that the marina may be reimbursed for up to 75% of the approved project cost.
2. What are the Conditions for Installing a Pumpout?
The facility must be open to the public.
The pumpout must be open during normal hours.
The pumpout must be used for it intended purpose.
Pumpout facilities may collect a maximum of $5 per pumpout, however, ideally, they would be free.
3. What Types of Pumpouts are available?
Stations affixed permanently to a dock
Mobile stations mounted to a golf cart or hand truck.
Direct slipside connections
Pumpout boats
4. Who is eligible to receive funds?
Funds are available to applicants whose facilities are located on navigable fresh or salt water bodies within the state of South Carolina who serve recreational vessels. Eligible participants can include both public and private operators of facilities such as boat ramps, marinas, and dock slips that provide public access.
5. What is the process for receiving funds?
South Carolina encourages an applicant to contact as many manufacturers of pumpout equipment as possible prior to them creating a proposal. We rely on the operators to assess their pumpout needs as they know their facilities and their clientele best. Once a determination has been made on the type of system that they would like to install, the operator submits a detailed proposal outlining the system and its associated costs, to include plumbing and electrical. Upon receipt of the proposal, the South Carolina Department of Natural Resources (SCDNR) staff performs a detailed review. Following this review, a contract is drafted, executed, and monies are earmarked for the specific project. Applicants must have an active DUNS Number and be register their business at SAM.gov. Upon the execution of the agreement, pumpout systems can then be ordered and installed. Once the installation is complete, a request for reimbursement is submitted along with the required documentation.
6. What does the grant cover?
The grant will cover up to 75% of the approved project costs.
7. How much money is available for projects?
Funding is based on the award amounts granted by the US Fish and Wildlife Service pursuant to grant requests made by the state. Funds are then allocated according to established criteria, which designate priority use areas based on a comprehensive survey that utilized recreational boater use patterns, water classifications, and shellfish harvesting grounds. Priority areas were based on the lack of existing pumpout facilities. There were either too few available facilities to serve the current and predicted future demand or there were areas in water suitable for shellfish harvesting, either from a water classification standpoint or its proximity to a shellfish culture permit area, a state shellfish ground, or a grant area. All awards are reviewed on a case-by-case basis.
8. Who funds the Clean Vessel Act (CVA)?
The funds for the CVA Program come from boaters and anglers through excise taxes paid on fishing tackle and motorboat fuels under the US Fish and Wildlife Service's Federal Aid in Sportfish Restoration Program.
9. How will South Carolinians and boaters who use our waterways benefit from the Clean Vessel Act Grant Program?
Boaters will benefit from having greater access to convenient and inexpensive pumpout services. Everyone will benefit from reduced levels of sewage into our waters, which will lower the risk of disease carrying contaminants to the aquatic environment.
---
Pumpout Vendors
* The SCDNR does not endorse any particular vendor(s). Vendors wishing to have their contact information added to this page should contact Benjamin Stone, SCDNR, (843) 953-9062, StoneB@dnr.sc.gov.