DNR News
Dec. 20, 2012
National Geographic names Jocassee Gorges one of '50 of the World's Last Great Places'
The Jocassee Gorges was recently named one of "50 of the World's Last Great Places—Destinations of a Lifetime" in a special edition of National Geographic magazine.

"National Geographic's special recognition of Jocassee Gorges is quite an honor," said Mark Hall, Jocassee Gorges land manager for the S.C. Department of Natural Resources. "We have one of the great wild places on our planet. It's an exciting place to be, with the peregrine falcons appearing, more bald eagles showing up,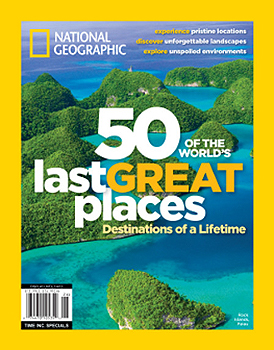 Audubon designating Jocassee as an internationally Important Bird Area, and now we're working to place an observation tower on the highest mountain in the state. Who knows what's next?!"

One of the best vantage points to see Jocassee Gorges is Sassafras Mountain in northern Pickens County, where a fund-raising campaign is underway to build an observation tower on the highest point in South Carolina.

The four-page spread in National Geographic's special issue, titled "Jocassee Gorges: an intense concentration of waterfalls," features photos of Upper Whitewater Falls and Oconee bells.

"Thanks to the second highest rainfall in the continental United States," the article begins, "the Jocassee Gorges area of North and South Carolina supports rare plants and one of the highest concentration of waterfalls in the eastern United States. The area was given added protection by the purchase of 40,000 acres by both states and several nongovernmental organizations, which connected some 200,000 acres and guarantees that plant and animal species would not be isolated. Living here are black bears, bobcats, wild turkeys, and the highest number of salamanders found anywhere in the world. Included among some 60 species of rare plants are 90 percent of the world's Oconee bells, whose nearest relatives are in China and Japan."

The National Geographic special edition can be ordered online.
---
More News