Coyote Biology and Control - Upcoming Programs and Workshops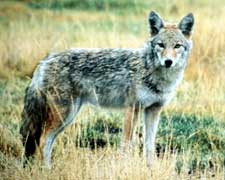 The South Carolina Department of Natural Resources in conjunction with Clemson University Extension and the South Carolina Trappers Association will conduct a series of coyote control workshops. Topics will include the basic biology of coyotes, trapping and other control techniques and demonstrations.
Fees vary depending on the type and length of workshop, and preregistration is usually required. Dates and times subject are to change.
For questions please contact:
Jay Butfiloski,
Furbearer & Alligator Program Coordinator Certified
Wildlife Biologist®, TWS
SC Dept. of Natural Resources
P.O. Box 167
Columbia, SC 29202
Ph:803-734-4024
Fax:803-734-3691
Date
Location
Discussion Topic
Registration
Cost
December 14-15, 2023
Webb Wildlife Center,
1282 Webb Avenue Garnett, SC 29922

Coyote biology and management
General trapping equipment
Trap selection and modification
Trap preparation
Trap site selection
Various trap sets
Bait/lure selection and use
Trapping safety
Running a trap line
Record keeping

The maximum number of attendees for this workshop is 30.

Registered Foresters that take and complete the workshop qualify for 10.5 hours of Category 2 Continuing Forestry Education (CFE) Credits.

Register
The cost for the workshop is $115 and includes workshop materials, overnight bunkhouse style accommodations at the Webb Wildlife Center, dinner on Thursday, and breakfast and lunch on Friday.
The Coyote Facts
Average adult coyote is 35 pounds, but can exceed 50 pounds.
Coyotes are mostly grayish-brown to reddish-tan; nearly all black is not uncommon.
Coyotes reproduce in late winter, have a 63 day gestation period, and produce 5-7 pups per litter.
As evidenced in other states with long established coyote populations, expanding coyote populations are likely to impact local deer and small game. However, overtime coyote populations are expected to stabilize allowing deer, turkey and small game to still exist in healthy numbers in South Carolina.
For more information on the coyotes, please download the following Adobe PDF files: