Manatees in South Carolina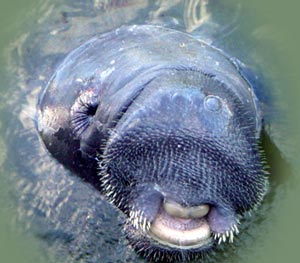 Manatees have been observed in South Carolina since 1850. Between 1850 and 1981, 23 records of manatees in South Carolina were documented (Rathbun et al., 1982). From 1981 to 1986, four additional records were reported by O'Shea (1988). Between 1986 and 1992, 25 more records were recorded by the South Carolina Department of Natural Resources (SCDNR). Thus, only 52 records of manatees were documented over 142 years (1850 - 1992) suggesting manatees are rare visitors in South Carolina.
During summer of 1993, SCDNR began a project to document manatees in state waters. We placed posters in coastal marinas requesting information on manatees. Several news releases were issued and we were somewhat surprised when 77 reports of manatees were received. Most sightings were along the southern coast, but regular reports were received from the entire coast. During 1994 and 1995, we received an additional 40 and 32 manatee reports, respectively. Between 1996 and 2003, an additional 848 manatees were reported. The greater number of sightings in recent years may reflect the public's increased awareness of manatees.
We were interested in when and where manatees were observed in our state waters. Our intention was to receive reports giving us enough time to travel to the site and attempt to identify individual manatees. This would allow us to determine, at least, a minimum number of individual manatees frequenting our state waters and evaluate repeated sightings of same individuals. We were also hopefulto use extensive ID catalogues developed in the clear fresh waters of Florida to determine where our manatees were coming from and whether the same manatees were returning. Unfortunately, in our productive, but murky, coastal waters we don't see much more than the head of a manatee. This is further complicated by the fact that in our marine environment, manatees support an extensive growth of organisms on their backs, which obscures the propeller scars that are so frequently used to identify individuals. We also had difficulty traveling to the site before the manatee moved away. We frequently hear the phase: "You missed it, it was just here!"
Report an injured Manatee
To report an injured manatee in South Carolina please contact the 24-hr SCDNR hotline at 1-800-922-5431.