Aquaculture Programs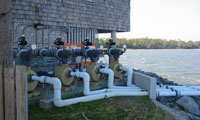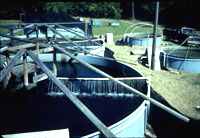 Marine Resources Research Institute Lab
The 50,000 sq. ft. Marine Resources Research Institute is located on 75 acres on Charleston Harbor. This Institute contains numerous offices and laboratories to support research in a diversity of areas.
Aquatic facilities include wet laboratories containing series of 6 ft. diameter tanks connecting to recirculating and flow through water systems; arrays of smaller tanks for culture and observation studies; individual broodstock conditioning rooms which house 12 ft. diameter tanks and have independent environmental control (light, temperature, water quality).
Other indoor facilities including a hatchery room as well areas for culturing algae and live planktonic feeds (e.g. rotifers).
Outdoor facilities include large 20 ft. diameter tanks connected to flow through and recirculation water systems.
South Carolina Commercial Aquaculturists list is available for download in the PDF file format.