Aquaculture Programs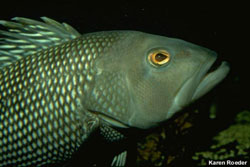 Black sea bass, Centropristis spp.
Black Sea Bass
Black sea bass, Centropristis spp. consists of two subspecies; the southern sub-species, C. s. melana, is found throughout the Gulf of Mexico while the Atlantic coast sub-species, C. s. striata, is distributed from the Gulf of Maine to northern Florida. Throughout its range this species supports both recreational and commercial fisheries. The first reported spawning occurred in 1884 with fish captured off South Carolina and shortly afterwards, ripe fish captured off Massachusetts were spawned. Since then there has been increasing information developed on the culture of this typical reef dwelling species.
There has been interest in aquaculture production of this marine species due to its high market price and the increasing level of information on its culture. Fishery landings of black sea bass command a high ex-vessel price and supply has not met demand. This highly prized species is also desired in ethnic markets where their wholesale price is high for the larger sized fish. From a fishery standpoint, recent analyses indicate that spawning stock biomass has decreased since the late 1980's. As a result, fishery regulations have become more restrictive in an attempt to maintain a sustainable fishery. In the foreseeable future, fishery landings are not expected to satisfy the increasing consumer demand thereby providing opportunity for commercial culture.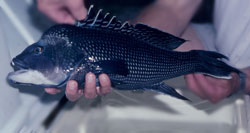 Culture research in SC and neighboring states have identified suitable techniques to spawn recently captured fish as well as to environmentally condition captive fish for repetitive spawnings in successive years. Nursery techniques have also been developed to produce juveniles for production trials. To date, limited grow-out trials suggest that this species is capable of rapid growth under proper environmental and nutritional conditions however; no large-scale production trials have yet been conducted.