Located on the Colleton River, Beaufort County, SC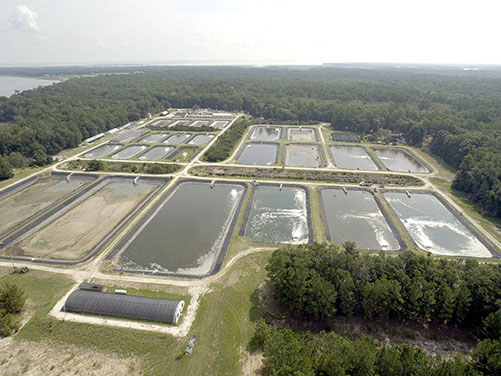 The Waddell Mariculture Center (WMC) is a field experiment station of the S.C. Department of Natural Resources and is one of the country's largest and most sophisticated facilities for mariculture research. It was constructed in 1983-84 to develop propagation and farming techniques for marine and brackish water species of finfish, mollusks, crustaceans and plants. The center's large physical plant allows researchers to expand promising laboratory work to commercial scale.
Research performed at the center is directed toward the culture and practical production of aquatic species, which appear to be of economic importance to the state. For 30 years, the center has worked with a variety of species including striped bass, white bass and their hybrids, two sturgeon species, cobia, whiting, red drum, black drum, black sea bass, flounder, spotted sea trout, tilapia, and seven species of marine shrimp, freshwater prawns, hard clams, bay scallops and oysters. The scope of work varies widely among species, in response to competitive federal government research grants and private business needs.
Scientific and educational programs at the center are conducted by the Marine Resources Research Institute doctorate level scientists and other staff members with expertise in finfish, crustacean and molluscan aquaculture, marine chemistry, fisheries management, phytoplankton ecology, statistics, system design, economics and marketing. Cooperative aquaculture activities are conducted in conjunction with Clemson University, the University of South Carolina, the College of Charleston and the South Carolina Sea Grant Consortium. Faculty members from these affiliated institutions expand the Center's capabilities in genetics, developmental biology, pathology, nutrition, microbiology, food processing and engineering.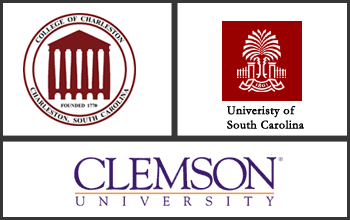 Waddell Mariculture Center Affiliates - Thank you
Through cooperative agreements with Clemson University, the University of South Carolina and the University of Charleston, opportunities and facilities are made available for graduate research while the universities provide specialized expertise in disciplines such as nutrition, genetics and engineering.