Life Cycle of the Blue Crab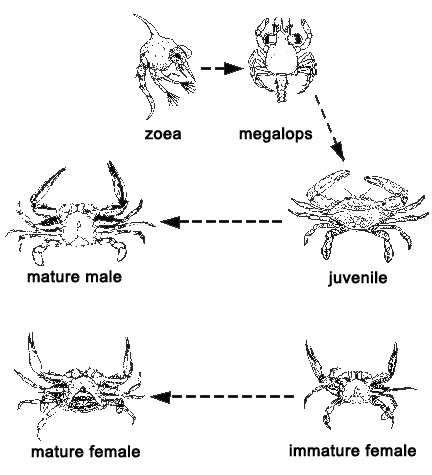 Life Cycle of Blue Crab
- Starts as a zoea then grows into the
megalops which grows into the juvenile and finally the adult crab.
This publication was made possible in part with funds from the sale of the South Carolina Saltwater Recreational Fishing License and the U.S. Fish and Wildlife Service Sportfish Restoration Fund. The South Carolina Department of Natural Resources publishes an annual Rules and Regulations booklet that lists all saltwater fishing regulations. Have an enjoyable fishing trip by reading these requirements before you fish.
Author credentials: J. David Whitaker, Marine Resources Division

The above information on the blue crab is available in a brochure, please download the Sea Science - Blue Crab information pamphlet which is in the Adobe PDF file format. Adobe® Reader® is required to open the files and is available as a free download from the Adobe® Web site.