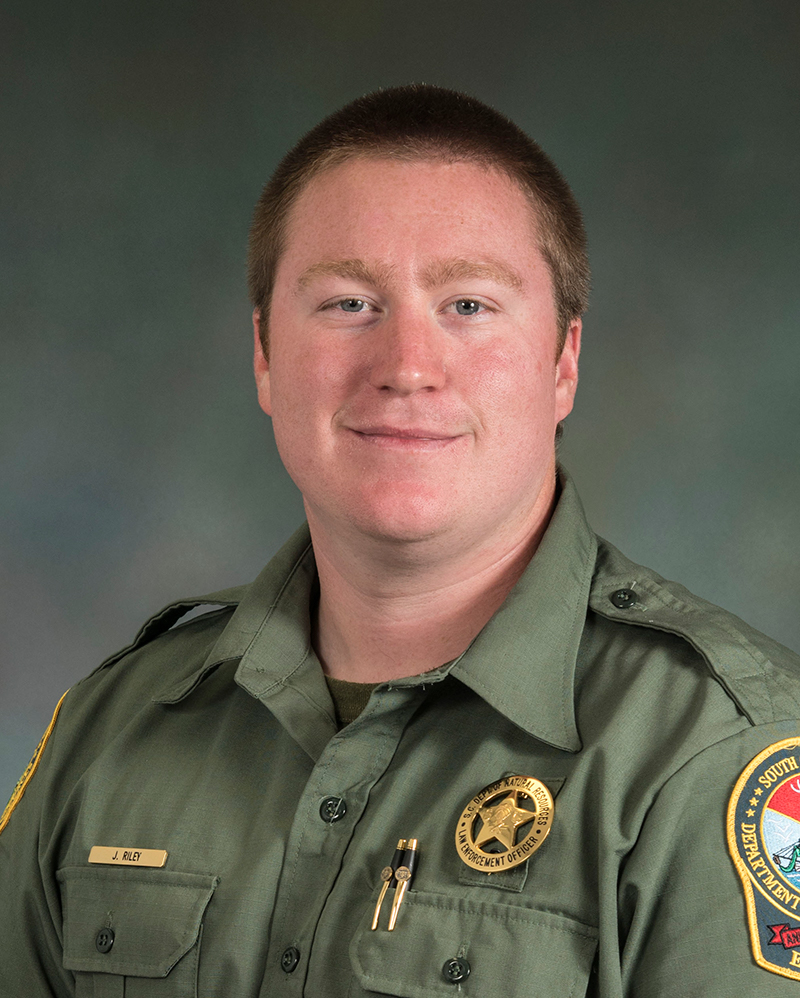 ---
October 6, 2020
The S.C. Department of Natural Resources has named its State and Regional Officers of the Year for 2020. Dorchester County Officer PFC Tanner Riley has been chosen as the State Officer of the Year.
This year's awards ceremony was held virtually via a "Zoom" meeting due to COVID-19 precautions being taken by S.C. state agencies. Normally, officers, their families and agency leaders would gather together to share a meal and to honor the legacy of former SCDNR Law Enforcement Division Chief R.M. "Bobby" Gifford. The State Officer of the Year award is named in honor of the late Chief.
Officer Riley has more than lived up to the legacy established by Chief Gifford. During the past year, he was involved with 245 individual cases and logged 448 hours of night patrol hours. Those cases included multiple citations for taking ducks out of season, taking waterfowl over bait, trespassing to hunt waterfowl, taking turkey out of season, trespassing to hunt turkeys, renegade hunter law violations, trespassing to hunt deer, untagged deer, "300 yard" violations, trespassing to fish, and night hunting for deer. Some of Officer Riley's other major non-hunting-related cases involved taking prohibited sharks, possession of an American alligator, feeding/enticing an American alligator and Boating Under the Influence.
Officer Riley also made 26 public presentations at events such as SCDNR TOMO youth hunts, Outdoor Dream Foundation youth hunts, Shop with a Cop during Christmas, an informative television segment on boating safety with Dorchester County, and an Adopt a Senior program presentation that was covered by news stations across the U.S.
Officer Riley is married to his wife Allison of three years.
---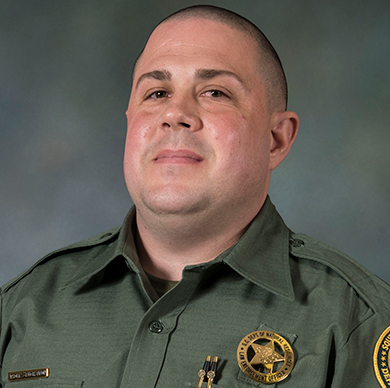 In addition to regional and Statewide Officers of the year, the SCDNR also honors regional and section Boating Officers of the Year, and a Statewide Boating Officer of the year as recognized by the National Association of State Boating Law Administrators (NASBLA). This year's NASBLA Boating Officer of the year is LCPL Thomas Buckhannon (pictured at right), who works in Horry county, in and around some of the state's busiest waterways. During fiscal year 2019, Officer Buckhannon conducted 313 hours of boating patrol in Horry County. He inspected 457 boats in 2019 and documented 255 boating violations either by the issuance of a warning or a summons. Five of those were cases involved Boating Under the Influence (BUI) violations. In addition to his diligence patrolling the waters of Horry County, Buckhannon was responsible for investigating 22 boating accidents involving 66 hours of investigation.
---
SCDNR Regional Officers of the year for 2020:
Region 1: PFC George Caddell
Region 2: PFC Michael Kimbrell
Region 3: C/O Ethan Adair
Region 4: PFC Tanner Riley (Statewide winner)
Education: SSGT Charlotte McKee
Boating Officers of the Year:
Region 1: LCPL Shawn Hanna
Region 2: PFC Michael Kimbrell
Region 3: LCPL Stephen Bryant
Region 4: LCPL Thomas Buckhannon (NASBLA State Boating Officer of the Year)
Investigations: INV Damian Yongue
Media Contact:
Regional Public Information Coordinator
Greg Lucas at
LucasG@dnr.sc.gov
864.380.5201