February 4, 2021
South Carolina Department of Natural Resources (SCDNR) Conservation Officer First Sgt. Andrew Godowns has garnered numerous accolades during his law enforcement career for his exemplary work in the field, but 2020 brought a different type of recognition for the Lowcountry officer.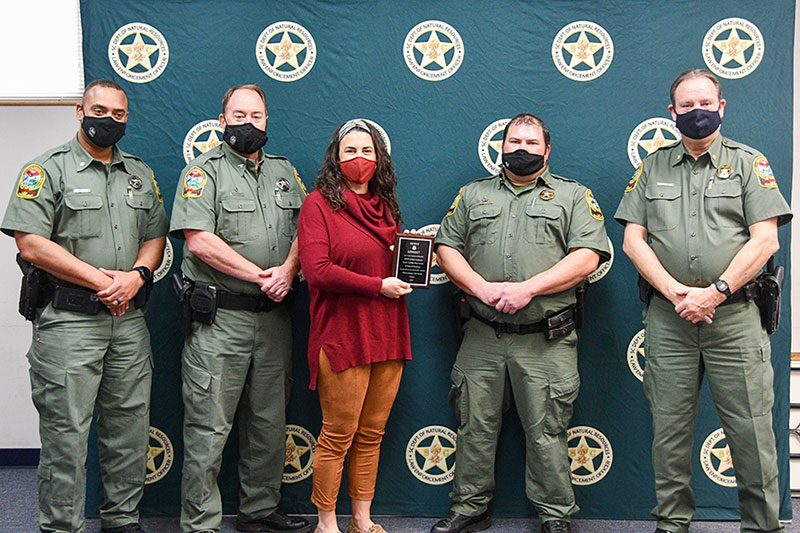 FSgt. Godowns was named in the Fall of 2020 as a finalist for the Columbia-based nonprofit organization Serve and Connect's "Officer Gregory Alia Award for Excellence in Community Service." The annual award recognizes an outstanding law enforcement officer in South Carolina who demonstrates a commitment to serving his or her community with respect and compassion. He may not have "won" the first-place award this year, but Sgt. Godowns' leadership and commitment to service, both in his professional life and otherwise, deliver big wins for his community on a day-to-day basis.
Recently, FSgt. Godowns and other leaders in SCDNR's Law Enforcement Division had the opportunity to meet with Serve and Connect founder Kassy Alia Ray to talk about the organization's long-term goals for building bridges between law enforcement and citizens in the local communities they serve. Ray founded Serve & Connect in memory of her late husband, Officer Gregory Alia, who was killed in the line of duty on September 30, 2015. The organization works to foster trust and improve relationships between communities and the law enforcement officers that serve them.
When SCDNR Region IV Captain Michael Paul Thomas learned about the recognition program and Serve and Connect's community outreach mission, he immediately thought of FSgt. Godowns.
"Andrew is a great law enforcement officer, but apart from that, he knows that this job doesn't stop when he comes off the road or the water," said Thomas. "He's someone that believes in looking out for people twenty-four-seven, and in helping and supporting his community however he can."
A perfect example of that was last Spring, when FSgt. Godowns came across an "Adopt a Senior Lowcountry" post on social media about a Battery Creek (Beaufort) High School senior named Tyler Hancock. The young man had overcome numerous challenges in his life, and his most cherished goal was to complete college and become an SCDNR Officer.
FSgt. Godowns recruited his colleagues in Region IV, as well as community members and local businesses, to help in getting college necessities like a computer, textbooks, notebooks, clothes and other items for Tyler. (As well as some fishing gear!) Officers in SCDNR's Take One Make One (TOMO) program, which Tyler had also been involved with, as well as the Harry Hampton Wildlife Fund, also pitched in to ensure that Tyler Hancock's college career would start on a positive note. Tyler was awarded a College Scholarship from TOMO and received a Lifetime Hunting and Fishing License from The Harry Hampton Wildlife Fund. In addition, SCDNR Officers arranged a special salute to Tyler at his school on graduation day. Tyler stated that it was one of the best days of his life, and that "just knowing that these guys were there for him meant everything." After a story about the event aired on local news stations, it was picked up across the country. For the next few weeks, FSgt. Godowns received phone calls and emails from people who had seen the segment and also wanted to donate to Tyler's college fund.
"FSgt. Andrew Godowns exemplifies what we look for in a conservation officer," said SCDNR Law Enforcement Division deputy director, Col. Chisolm Frampton. "A big part of the leadership that he demonstrates — and a quality we want all of the men and women who wear this uniform to strive for — is how he views his role as being fundamentally one of helping his community, not just enforcing laws."
SCDNR's Law Enforcement Division supports the important work being done by Serve and Connect. To learn more about the organization's mission, visit their website at: [https://serveandconnect.net/].
Media Contact: David Lucas, Public Information Coordinator