January 6, 2021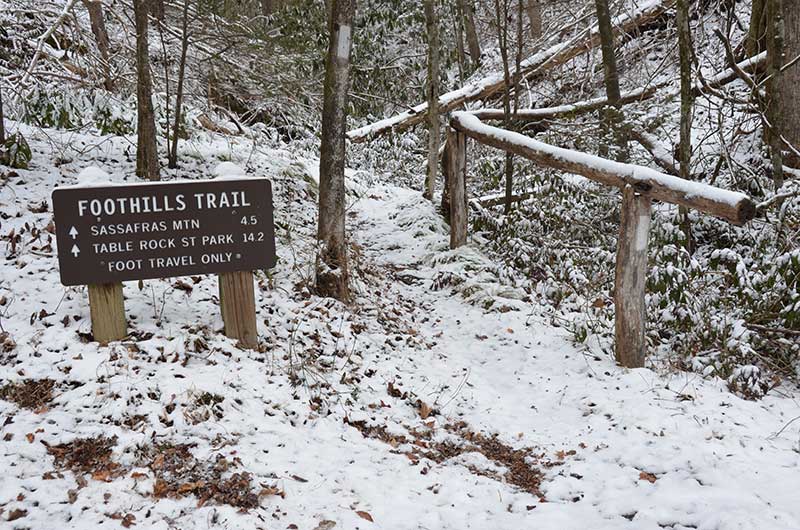 Horsepasture Road within the Jim Timmerman Natural Resources Area at Jocassee Gorges in northern Pickens County will be closed by the South Carolina Department of Natural Resources (SCDNR) on Thursday in anticipation of significant snow accumulation Thursday night and Friday morning. Musterground Road on the Oconee County side of Jocassee Gorges will also be closed.
Access to the road to the Sassafras Mountain Overlook, F. Van Clayton Highway, is managed by Pickens County and may be subject to closure as well. The gate, which is near the intersection with Glady Fork Road and is managed by Pickens County in inclement weather, is about a mile from the Sassafras Mountain Overlook.
"Road closure will protect soil and water quality, road integrity and help avoid public safety issues," said Mark Hall, SCDNR Jocassee Gorges land manager. Check the SCDNR social media outlets, or call (864) 868-0281 for Jocassee Gorges road management updates. Jocassee road closures will remain in effect until Monday, Jan. 11.
The entrance to Horsepasture Road is on US 178 about a mile north of Rocky Bottom community. Jocassee Gorges interior roads are scheduled to remain open until Jan. 15, and Hall said the inclement weather closings should not affect that schedule. The Jocassee Gorges entrance at Shooting Tree Ridge Road, which is on Cleo Chapman Highway in Eastatoe Valley, will remain open, but the road will be gated and closed at Cane Creek.
The Jocassee Gorges, which includes the Franklin L. Gravely Wildlife Management Area, is in northern Pickens and Oconee counties along the North Carolina border and surrounds Lake Jocassee. The property features numerous forest ecosystems and many rivers and streams. Jocassee Gorges, acquired by SCDNR in 1998, is also home to rare and unusual plants and animals. Recreational uses include hunting, fishing, mountain biking, paddling, birdwatching, and nature viewing.
For more information on Jocassee Gorges, visit South Carolina Department of Natural Resources (sc.gov).
Media Contact: Greg Lucas