SCDNR News
Public Survey for Sunday Hunting on SCDNR WMAs: We want to hear from you
UPDATED: July 28, 2021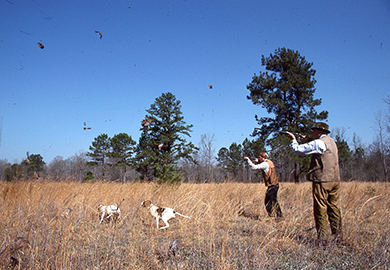 The S.C. Department of Natural Resources (SCDNR), in coordination with Clemson University, is currently evaluating options for Sunday hunting on Wildlife Management Areas (WMAs) in South Carolina.
Anyone with comments or opinions about Sunday hunting on WMAs is encouraged to participate in a statewide survey and/or attend a public listening session in July 2021.
The survey will allow SCDNR to assess the public opinions and attitudes towards the potential of opening WMAs to Sunday hunting.
The survey must be completed in one session and should take no longer than 10-12-minutes. The survey will be available until July 28, 2021 at 5 p.m.
Additionally, there will be a series of four public meetings held in July across the state to discuss the subject of Sunday hunting. All public meetings will begin at 6 p.m.
Public meetings
July 13, 2021
6:00 p.m.
Florence, SC
Clemson Pee Dee Research and Education Center
2200 Pocket Rd.
Florence, SC 29506
July 15, 2021
6:00 p.m.
Clinton, SC
Clinton Armory –National Guard
18040 SC-72
Clinton, SC 29325
July 19, 2021
6:00 p.m.
Moncks Corner, SC
Santee Cooper Auditorium
1 Riverwood Dr.
Monck's Corner, SC 29461
July 26, 2021
6:00 p.m.
Columbia, SC
Seawell's
1125 Rosewood Dr, Columbia, SC 29201
For questions related to the ability to complete the survey please contact Clemson University at ebaldwn@clemson.edu or rjgagno@clemson.edu. For questions related to the public meetings, please call the Wildlife and Freshwater Fisheries Division at (803) 734-3886. Please submit all comments, opinions and/or concerns through the online survey and/or public meetings to ensure your opinion is included in the results.