SCDNR News
Charleston County SCDNR officer recognized for heroism by S.C. Senate and Gov. Henry McMaster
May 7, 2021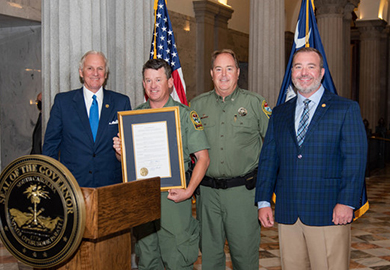 COLUMBIA, S.C. — For law enforcement officers like S.C. Department of Natural Resources (SCDNR) Lance Corporal Griffin Allison, assigned to Charleston County, there's no such thing as an ordinary day on the job. That was certainly true last December, when a routine trip down U.S. Highway 17 turned into a life-or death situation requiring quick action.
On Dec. 14, 2020, LCpl. Allison was the initial first responder on the scene of a crash involving a pickup truck and dump truck in Awendaw. He realized immediately that the driver of the pickup truck was trapped inside his vehicle and that it was beginning to catch on fire. With fire department crews notified but still en-route to the scene, LCpl. Allison and the occupants of the dump truck were able to free the driver just seconds before both vehicles were fully engulfed in flames. As a result, the pickup driver suffered only minor injuries.
LCpl. Allison's actions that day did not go un-noticed. S.C. state Sen. Stephen Goldfinch, whose district encompasses parts of Charleston, Georgetown and Horry counties, happened upon the accident scene also. When he realized what was happening as he passed the scene, Sen. Goldfinch made a note to himself to find out the identity of the SCDNR officer involved so that he could be recognized.
Sen. Goldfinch introduced a resolution honoring LCpl. Allison, which was unanimously approved by his colleagues in the Senate. S.C Gov. Henry McMaster and Sen. Goldfinch took time out of their respective schedules yesterday (May 6, 202) to present a framed copy of the resolution to LCpl. Allison as a permanent reminder of the impact that his service as a law enforcement officer had that day. LCpl. Allision was introduced to the crowd gathered for the ceremony in the S.C. Statehouse by the head of SCDNR's Law Enforcement Division, Col. Chisolm Frampton.
"This is another fine example of the strong people in our state," said Gov. McMaster. "General Mark Clark used to say that 'we have more patriotism in S.C. per square inch than any other place in the world,' and taking care of your fellow citizens, even while putting yourself at great risk, is a big part of that. On behalf of the people of our state, I want to thank the lance corporal for his actions. The Department of Natural Resources does a wonderful job for our great people and we appreciate it very much."
"Thank you so much for your service to our state and to my District," said Sen. Goldfinch. "In appreciation we've framed a copy the resolution for you that you can put on the wall and be able to remember it forever."
While the dedicated men and women that serve in the SCDNR's Law Enforcement Division are charged with upholding the state's wildlife, natural resources protections and boating-related laws, they are also frequently called upon to assist other law enforcement agencies, and to serve protect the public in a number of roles. Whether in the woods, on the water, or even, as in this case, on the state's roads or highways, their number one mission is to ensure that everyone gets home safe.
Media Contact:
David Lucas
LucasD@dnr.sc.gov
(843) 610-0096