SCDNR News
Sassafras road will close Saturday afternoon due to approaching winter weather
January 14, 2022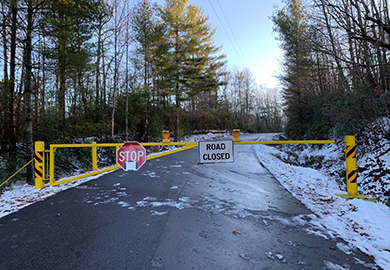 Pickens County will close the road to the Sassafras Mountain Overlook at 4 p.m. Saturday, Jan. 15, 2022, for safety reasons due to the approaching winter weather. Recreational users of the Overlook, the Foothills Trail and the Palmetto Trail should make sure they do not leave vehicles in this area.
All roads within the Jim Timmerman Natural Resources Area at Jocassee Gorges in northern Pickens County have also been closed by the S.C. Department of Natural Resources (SCDNR) in anticipation of significant snow accumulation over the weekend.
Pickens County crews will attempt to allow all persons to evacuate the area around the Sassafras Mountain Overlook. A flier will be left on any vehicles behind the gate, so they can contact the Vineyards Fire Department or Pickens County Dispatch Center if they need assistance with leaving after the gate is locked.
However, once road conditions become treacherous late Saturday/early Sunday, the Fire Department will not be able to make it up to the gate to assist anyone with leaving.
Pickens County will close the gate on F. Van Clayton Highway, the road to Sassafras, about a mile away from the Overlook. Any vehicles left at the parking area near the Overlook would be inaccessible if they are still there when the road is closed.
Because of the steep grade of the road, and its high elevation, the road can be dangerous when covered with ice or snow.
To check on the status of the road to the Sassafras Mountain Overlook, call the Pickens County Sheriff's Office at (864) 898-5500.
Sassafras Mountain Overlook is part of the Jocassee Gorges in northern Pickens and Oconee counties along the North Carolina border and surrounding Lake Jocassee. The property features numerous forest ecosystems and many rivers and streams. Jocassee Gorges, acquired by SCDNR in 1998, is also home to rare and unusual plants and animals. Recreational uses include hiking, backpacking, hunting, fishing, mountain biking, paddling, birdwatching, and nature viewing.
Media Contact:
Greg Lucas
SCDNR Upstate Outreach and Education Coordinator
864-380-5201
LucasG@dnr.sc.gov