SCDNR News
Reef fish survey celebrates 50 years of marine research
May 06, 2022
CHARLESTON COUNTY, S.C. – Before dawn last Tuesday, one of the South Carolina Department of Natural Resources core marine research programs quietly marked the start of a landmark field season.
A dozen marine biologists, crew members and captains boarded the blue deck of the R/V Palmetto in Charleston by 4AM. The largest of the agency's marine research vessels was outfitted for a week at sea – loaded with a dozen large buckets of iced bait, enough food to sustain long days pulling in and processing fish and more white rubber boots than a shrimp boat. The team set out southeast under 10-mph winds for their first trap sampling of the year.
A similar scene unfolded fifty years prior. The year was 1972, when gas cost 55 cents per gallon, The Godfather aired in theaters and the last U.S. troops withdrew from Vietnam.
Biologists at South Carolina's newly established Marine Resources Center had recently been awarded funding from a new, nationwide program designed to study the numbers, movement and habitat of the United States' offshore fish. The federal Marine Resources Monitoring, Assessment and Prediction (MARMAP) program's work would help experts keep tabs on the health of economically important fish such as sea basses, snappers and groupers.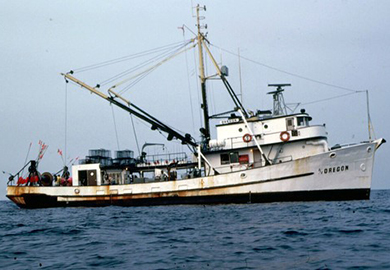 That first research cruise out of Charleston was a 20-day trip from North Carolina all the way to Miami, Florida aboard the white R/V Dolphin. They catch adult fish in trawl nets and larval fish in plankton nets. The small, all-male team knew the importance of the work they were undertaking, but they could not have foreseen that, fifty years later, theirs would be the only arm of the originally funded MARMAP programs still in existence, serving as a model for fisheries research across the country.
"These folks really were pioneers for our modern-day reef fish surveys, said said Dr. Tracey Smart, recently appointed head of the survey. "They tried new things, sometimes failed, but built on creative ideas to conduct good science, and we're trying our best to continue to build upon that history,"
Biologists spent the first twenty years of the program experimenting with different gear types to see how best to capture the fish they sought to study. In the late 1970s and 1980s, they transitioned away from trawl nets to less-damaging traps and focused more on adult fish, phasing out plankton nets. Dropped at randomly selected sites along their path, the large, baited traps attracted a variety of sea basses, snappers, groupers and porgies. After a predetermined soak time, biologists hoisted the traps back aboard the vessel and began the labor-intensive work of counting, identifying and measuring each fish in the traps. Many fish were released; others were sacrificed to better understand age, reproduction or other important aspects of fish life history.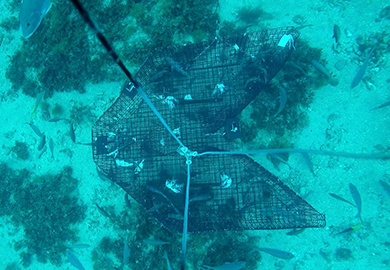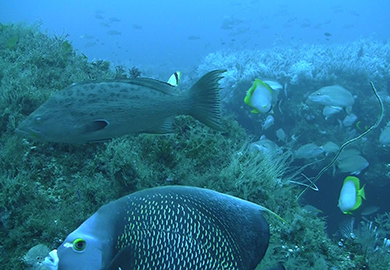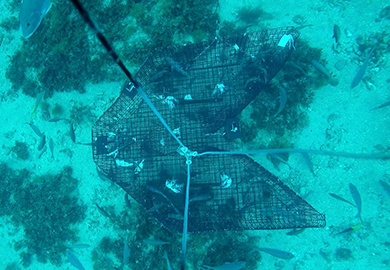 With a reliable new vessel – the R/V Palmetto – and decades of experience behind them, the team spent the 1990s fine-tuning the use of baited chevron traps to sample fish, which they use to this day. They continued their offshore excursions from North Carolina to Florida in the warmer months of each year, and they continued providing the data they amassed to federal partners.
It was in the last two decades that the survey matured into the recognizable force for research that it remains today. In the 2000s, increased funding allowed biologists to spend more days at sea – climbing from an average of 40 sea days per year to 100. And that translated to a dramatic increase in sampling stations – from 350 stations to 1,500 – and therefore more data.
With the new century also came an unexpected and transformative new tool for research. As the cost and size of high-resolution cameras shrunk, the team began exploring the use of video to study the fish that weren't coming up in their chevron traps – those too small, large or wary to be caught. Suddenly, they were able to view and quantify the habitats where each trap fell, count large sharks and sea turtles swimming by and observe courtship and feeding behaviors.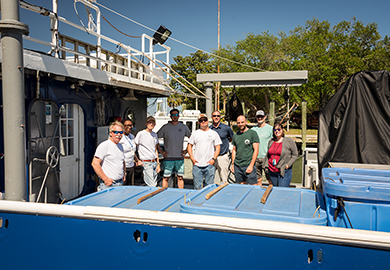 All that data has been well-used. In the past twenty years, the team has studied over 50 important species and contributed data to 46 stock assessments, which look at the health of different populations.
"The data legacy we've inherited is really unique, especially in this region, and the combined efforts of historical trapping, aging, reproduction, and newer cameras provides a much more comprehensive view of life for our reef fish than we've ever had before," said Dr. Smart.
In April 2022, the program said goodbye to longtime leader Dr. Marcel Reichert, who retired after 18 years with SCDNR, and welcomed Dr. Smart, a ten-year veteran of the survey as his successor. In a farewell email to staff, Dr. Reichert reflected on a career in which he "never felt without excitement and anticipation about the experiences and scenery around me."
"On to the next 50 years!" he said.
For additional information, contact:
Erin Weeks at (843) 729-3531
WeeksE@dnr.sc.gov