SCDNR News
SCDNR chairman, 'avid outdoorsman' recognized with honorary law enforcement title
October 4, 2022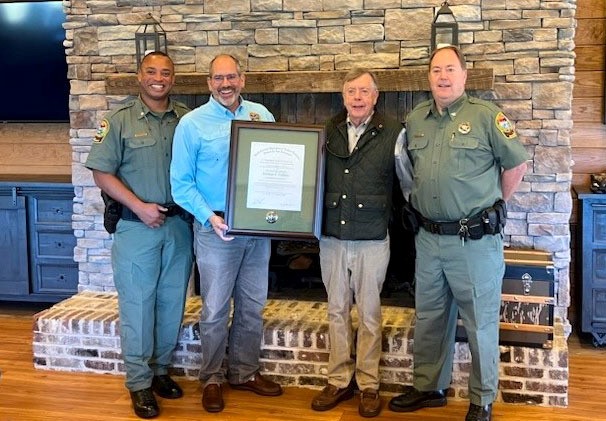 The South Carolina Department of Resources Law Enforcement Division recognized the agency's longtime board chairman during a ceremony Oct. 4.
Board Chairman Norman Pulliam was recognized as an honorary colonel with a plaque presented by Director Robert H. Boyles Jr. and Col. Chisolm Frampton, head of SCDNR Law Enforcement. The award was presented during a Law Enforcement Advisory Board meeting at Shaw-Sumter Farm.
"Chairman Pulliam is an avid outdoorsman and lifetime supporter of SCDNR and its mission," Frampton said. "We are very pleased to have had the opportunity to honor his service to the Law Enforcement Division with an honorary commission. He epitomizes what a true South Carolina sportsman is."
Pulliam, of Spartanburg, was first appointed to the board to represent the 4th U.S. Congressional District by then-Gov. Mark Sanford in October 2006. He has served as board chairman the past five years and before that spent a year as vice chairman.
He also served eight years, until June 2019, as chairman of the agency's Law Enforcement Advisory Board. A Clemson University graduate, Pulliam has served on multiple boards related to his alma mater and on numerous boards helping lead community organizations in Spartanburg.
His board service includes the South Carolina Conservation Bank and Conservation Mitigation Bank Trust Fund. He's been active in such organizations as Ducks Unlimited, The Nature Conservancy, the South Carolina Wildlife Federation and South Carolina Waterfowl Association, among numerous other groups.
"Norman Pulliam has dedicated his life to natural resources conservation," Boyles said. "He is an avid sportsman who understands how critical it is to have a strong enforcement program to sustain conservation across our state. We are pleased to recognize Chairman Pulliam for his many years of leadership and thank him for his continued selfless service to the SCDNR."
Pulliam called the recognition an honor and said he is "glad to be associated with the best state agency in South Carolina."