Wood Duck Box Program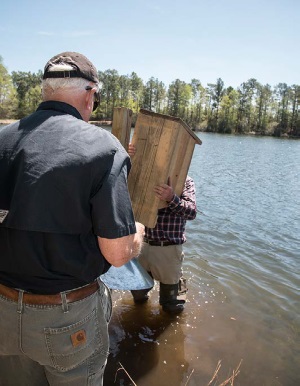 The wood duck is the most important species to South Carolina waterfowl enthusiasts and is the only duck for which we can effectively manage production habitat throughout all geographic regions of the State. This Wood Duck Project supplements natural production in cavities of forested wetlands by providing artificial nesting sites. Fewer natural cavities are available today due to human activity and development.
Through this project private landowners assist the Department of Natural Resources to produce thousands of wood ducks annually. Your interest in this project and cooperation in accurately completing this application are appreciated and enhance the effectiveness of our efforts to benefit waterfowl conservation in South Carolina.
Application and Registration
Each year, the Wood Duck Box Program allows SCDNR to offer a limited number of preconstructed wood duck boxes and predator guards. Up to 3 boxes per applicant will be available for distribution throughout the state.
---
For more information, please contact: Emily Kearse (803) 734-3887
All approved applicants will be notified by e-mail or phone at time of award.