Trout in the Classroom (TIC)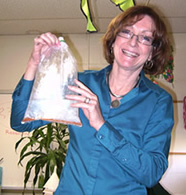 Teachers Take Note! Expose your students to a world of wonder. Let your students raise trout from eggs to fingerlings. Students can be responsible for daily care and maintenance of the fish.
All we ask is that you use the tanks as a teaching tool and turn in lesson plans with the correlating standards as to how you are going to use the Trout in the Classroom!
To apply for your classroom to have the Trout in the Classroom program during the 2022-2023 school year, download the application (PDF) and return to Sarah Chabaane through email or via mail at P.O. Box 167 Columbia, SC 29202 no later than September 3rd. Only teachers who teach in school districts in Anderson, Oconee, Pickens, Greenville, Lexington and Richland counties are eligible to participate due to the existence of trout populations in these areas.
Related links
---
The file above is provided in the Adobe® Acrobat® (PDF) format. Adobe® Reader® is required to open this file and is available as a free download from the Adobe® Web site.