Note: The 2020 Beach Sweep/River Sweep, originally scheduled for September 19, has been postponed due to the COVID-19 pandemic. The cleanup will be rescheduled when it is safe to do so. Thank you for your interest and support in the stewardship of South Carolina waterways.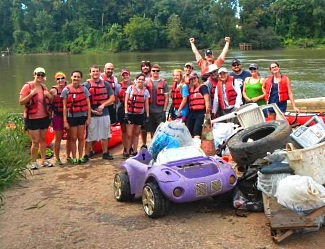 Beach Sweep / River Sweep - organized by S.C. Sea Grant Consortium in partnership with S.C. Department of Natural Resources - is the largest one-day litter cleanup of South Carolina's beaches and waterways. Every third Saturday in September thousands of South Carolinians volunteer to clear trash from our beaches, rivers, lakes, marshes, and swamps.
Beach Sweep/River Sweep is an annual event for South Carolina since 1988 and is held in conjunction with The Ocean Conservancy's International Coastal Cleanup, which involves several hundred- thousand volunteers in over 75 nations.

Volunteer for the Sweep
Would you like to be a part of this year's Beach Sweep/River Sweep? Anyone can participate, including businesses, civic clubs, recreation clubs, individuals, families, school groups, church groups, and youth groups. Volunteers select any river, lake, swamp, beach, creek, or marsh area they wish to clean. You may participate as a regular volunteer or as a site captain. Site captains are the volunteers who organize and lead a local cleanup effort, large or small. Regular volunteers are those who come out to pick up the trash. Site captains may register online and regular volunteers may contact and offer help to the site captains listed under cleanup sites.
Find out more. Go to: Site Captains / Cleanup Sites
Contact us
For additional information about how you can participate in Beach Sweep/River Sweep, please contact us: