Inshore Fisheries Research Section
Red Drum - Links & Thanks
Many people have worked hard to make this project a success.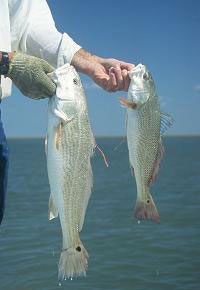 A huge thank you to...
The 1,400+ anglers who took the time to tell us how they fish.
The volunteers who spent countless hours fishing for red drum.
The mariculture section at SCDNR who provided tank space to house all of these fish.
The Red Fish Tour tournaments in Hilton Head & Charleston. SC Captain Rick Hiott, who, not only recorded data for his own fishing trips, but also volunteered his time and knowledge to help us find fish!
The other fishing guides (Gene Dickson, Lin Fore, Danny Rourk) who recorded data for us during their own fishing trips.
Anna Toline & the USC Belle Baruch Marine Laboratory who volunteered time and space to accomplish this project.
Please support the people who have supported this work:
Place
Captain
Guide Service
Comment
Charleston
Rick Hiott
Captain Rick's Website
Captain Rick not only helped the project by reporting on fish he had caught, but he also volunteered his time and talent in finding fish for the hook portion of the study.
Georgetown
Gene Dickson
& Lin Fore
Delta Guide Service Website
Low Country Expeditions Guide
Captains Gene and Lin were always extremely helpful and prompt with their work for the project.
Beaufort
Danny Rourk
Tailwind Charters Website
Captain Danny found us and volunteered to help catch fish for the project.
The Reel Johns in Charleston, SC provided all rods, reels, hooks, and other fishing tackle.
This project was funded by a grant from the Cooperative Research Program of the National Marine Fisheries Service Southeast Regional Office.