Marine - Recreational Shellfish Maps
2021-2022 Shellfish harvest season will close May 31, 2022 for recreational and commercial wild harvest seasons for all molluscan shellfish. Commercial mariculture can harvest in summer under permits with strict requirements.
Shellfish Grounds may be closed to harvest after storm events or marine spill. Please check with SCDHEC for the latest information on closure status. You can also call the SCDHEC shellfish hotline at 1-800-285-1618 or visit their news releases webpage.
Index Map of the South Carolina Shellfish Management Areas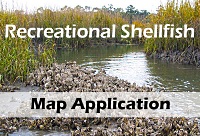 Select Map Application Icon for an interactive map of recreational areas.
Printable maps are available by selecting a geographical area on the map below.
Provided by the South Carolina Department of Natural Resources, Office of Fisheries Management, Shellfish Management Program.