April 14, 2016
Report sightings online to help diamondback terrapins
Coastal residents and visitors in South Carolina have a new way to make a difference in the long-term conservation of the diamondback terrapin, a declining turtle species found in salt marshes.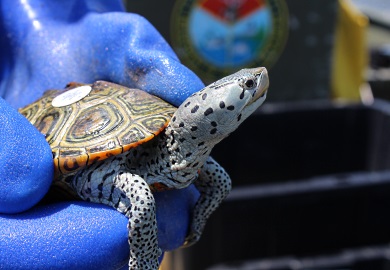 Just in time for the turtle's breeding season, the S.C. Department of Natural Resources (DNR) recently launched a reporting form and is asking members of the public to help by reporting terrapin sightings across the coast.
Diamondback terrapin sightings can be reported online here. Injured diamondback terrapins can be reported by calling 1-800-922-5431 or taken to a local wildlife rehabilitation center.
"Public input will help us get a better sense of overall distribution of diamondback terrapins in South Carolina, so that we can make sure we're conducting research in the right areas," said biologist Mike Arendt, who leads terrapin research at DNR.
In addition to the reporting form, DNR's diamondback terrapin program also unveiled a new website. Check out the new addition to learn more about this species and how DNR biologists are working to protect them.
Diamondback terrapins are the only turtles in the world to call the salt marsh their only home. They play an important role in maintaining the health of salt marshes by eating marsh periwinkle snails, which in unchecked numbers can destroy salt marsh vegetation.
Terrapins boast a remarkable variety of colors and patterns, with skin ranging from solid black to blue-tinged and Dalmatian-spotted. Their hieroglyphic-patterned shells come in shades of yellow, green, orange, black and brown, and they usually reach lengths of 5-8 inches.
Nearly hunted to extinction in the 19th and 20th centuries for their meat and shells, diamondback terrapins are now protected in many states, but their numbers remain a fraction of their historic population size. Habitat loss, sea level rise, and deadly car and fishing gear interactions continue to threaten the species.
Listed as a "high priority species" under South Carolina's State Wildlife Action Plan, the commercial harvest of diamondback terrapins was outlawed in the state in 2006.
Research shows that terrapin populations across the state are generally stable or declining. In the mid-1990s, DNR biologists began monitoring the abundance of diamondback terrapins caught in inshore trammel net surveys, which are conducted in the state's major estuaries. Since 1995, the average number of terrapins caught in these surveys has declined.
Other studies have also helped track changes in diamondback terrapin numbers at the local level. For more than 30 years, researchers from the University of Georgia and Davidson College have tagged terrapins on Kiawah Island, where their research suggests the turtles have declined over time. A Francis Marion University project on diamondback terrapins in Winyah Bay documented a similar short-term decline.
Despite these local and statewide studies, biologists are interested in gaining a more complete understanding of where South Carolina's diamondback terrapins live, travel, and nest. That's where DNR hopes citizen scientists can step in.
DNR's new terrapin reporting form invites observers to submit information about the size, number, condition, sex, and location of the diamondback terrapin(s) they encounter.
Arendt and his team are particularly interested in collecting more information about nesting locations, as well as the frequency of vehicle collisions and capture in fishing gears like crab traps, cast nets, and hook-and-line gear. Diamondback terrapins rarely survive car collisions, which happen when females cross roads in search of nesting areas, but the fate of diamondback terrapins captured in crab traps is largely a function of water temperature, with better chances of survival in colder water. Next year, the team will be working with recreational crabbers to rigorously test new crab trap designs to reduce the number of terrapins that enter crab traps.
---
More News