Summer rains have eliminated drought status for five counties
August 11, 2017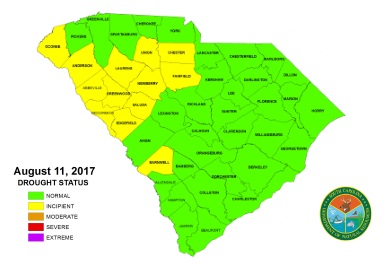 All counties within the state are now in normal or incipient drought status
Agricultural officials brought encouraging news to the South Carolina Drought Response Committee with several crops reporting the potential for the highest yields in many years.
After reviewing the agricultural and forest fire conditions, and the levels in the rivers, lakes and groundwater, the South Carolina Drought Response Committee, meeting via conference call on Aug. 11, 2017, removed the drought declaration for Aiken, Cherokee, Greenville, Spartanburg and York counties. However, spotty summer rainfall has not been enough to eliminate the drought statewide.
The following counties in the Upstate and Central Savannah region remain in drought: Abbeville, Barnwell, Chester, Edgefield, Fairfield, Greenwood, Laurens, McCormick, Newberry, Saluda and Union. Two counties, Anderson and Oconee, were upgraded to incipient drought, which is the first stage.
Despite being bordered by counties that remain in drought, Aiken County's declaration was removed. Over the last 30 days observers with the CoCoRaHS network reported 6 to 10 inches of rain, and looking back 60 days, rainfall ranged from 13 to 17 inches.
"We have some drought conditions in the Western Piedmont areas of the state, but overall, the majority of the state is in great shape as far as rainfall," said Brad Boozer, Director of State Farmers Markets, S.C. Department of Agriculture. "Corn, soybeans and peanuts may produce some of the highest yields that we have seen in the last 10-15 years if the weather holds out. Cotton crop looks great also."
"I am excited to hear farmers and agencies report that several of our communities are receiving rains at or above normal levels," said Jimmy Bagley, Deputy City Manager for the City of Rock Hill. "Greenville, Spartanburg, Cherokee and York all appear to be out of drought at this time. We are still monitoring Fairfield, Greenwood, Laurens, Newberry, Saluda and Union as they remain in incipient drought."
"While the more mountainous sections of Oconee County have received rainfall, the storm track seems to bypass the southern portions of the county," said Doug Young, President of the Lake Hartwell Association. "The soil moisture in southern Oconee is quite low below 2 or 3 inches from the surface."
Hydrologic conditions have improved in the upper Saluda, Broad and Catawba basins, and this supported the removal of the incipient status for counties in those areas, according to Scott Harder, SCDNR Hydrologist. However, below-normal groundwater levels and streamflow levels in portions of the middle Savannah Basin and in the central regions of the Saluda, Broad and Catawba basins supported keeping counties in these regions in an incipient status.
There was consensus among committee members that the majority of the Pee Dee region should remain out of drought. Theron DeWitt, Commissioner for the Darlington Soil and Water Conservation District, said, "There has been adequate rainfall throughout the region. In some areas rain is actually holding up harvest."
---
DNR Media Contacts
After Hours Radio Room - 803-955-4000
More News