Special youth dove hunt to be held Sept. 2 in Union County by SCDNR, U.S. Forest Service
August 18, 2017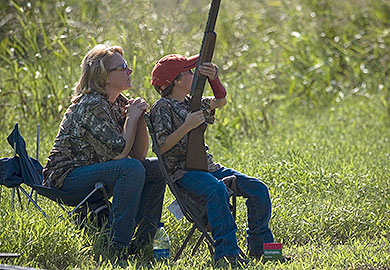 A special youth dove hunt will be held at the U.S. Forest Service Sedalia Field in Union County on Saturday, Sept. 2. Only youth will be allowed to shoot. This dove hunt is sponsored by SCDNR and the Forest Service. (SCDNR photo)
The South Carolina Department of Natural Resources (SCDNR) in cooperation with the Enoree District of the U.S. Forest Service will host a special youth dove hunt in Union County on Saturday, Sept. 2.
The hunt will be conducted at the U.S. Forest Service Sedalia Field, located off of Sedalia Fire Tower Road, near Cross Keys in Union County. Only youth will be allowed to shoot at this event. Each youth must be accompanied by an adult 21 or more years of age. Hunting for the general public on the U.S. Forest Service Sedalia Field will begin on the second Saturday of dove season.
The U.S. Forest Service Sedalia Field is about 17 acres planted in sunflowers, corn, and browntop millet. Prospects are good for quality dove hunting this September. There is no pre-registration or fee associated with this hunt. Participants should bring a shotgun, chair, and plenty of water. Other items to consider are sunscreen, insect repellent and snacks.
Dove hunting will be afternoon only. Hunters will not be allowed to enter the field until noon. Shooting will end at 6 p.m. during the first segment of dove season. Hunters are limited to 50 shells each.
For questions or further information, contact the Union SCDNR Office at (864) 427-5140 or the U.S. Forest Service Enoree Office at (803) 276-4810.
Specific directions to U.S. Forest Service Sedalia Field from the intersection of Hwy. 56 and Hwy. 49 in Cross Anchor: Drive east on Hwy. 49 for 5 miles. Bear Right onto Old Buncombe Road and continue for 3.5 miles. Turn left on Sedalia Fire Tower Road and drive for 0.25 miles. Turn left into entrance for U.S. Forest Service Sedalia Field.
---
DNR Media Contacts
After Hours Radio Room - 803-955-4000
More News