SCDNR, Tall Timbers, and Quail Forever Announce MOU
August 1, 2017
by D. Breck Carmichael Jr., SCDNR Wildlife Biologist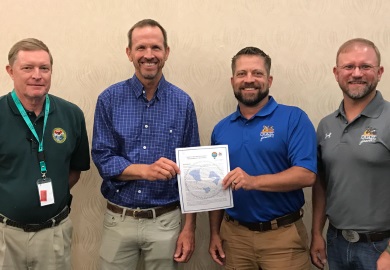 Breck Carmichael of SCDNR, Bill Palmer of Tall Timbers, Tim Caughran of Quail Forever, and Andy Edwards of Quail Forever are working together for the conservation of bobwhite quail.
On July 26, 2017, the South Carolina Department of Natural Resources (SCDNR), Tall Timbers Research and Land Conservancy, and Quail Forever signed a Memorandum of Understanding at the National Bobwhite Technical Committee Business meeting in Knoxville, TN.
The MOU calls for the three organizations to cooperate and collaborate on implementation of the South Carolina Bobwhite Initiative (SCBI), the state's step-down plan from the National Bobwhite Conservation Initiative, for restoration of habitat for bobwhite quail and associated grassland birds.
Tall Timbers is expanding their SC efforts through the development of the Carolina Regional Quail Project (CRQP).
"The SCBI and CRQP are similar in that each program has objectives of restoring bobwhite habitat and populations to huntable levels across landscapes where restoration potential is high," said Reggie Thackston, CRQP Coordinator for Tall Timbers.
Quail Forever (QF) is a non-profit organization dedicated to the conservation of quail, pheasants and other wildlife.
"QF is seeking to increase their presence in SC as well as other states in historic quail range, and provide support of bobwhite restoration and management," said Tim Caughran, QF Director of Field Operations.
We are very pleased to have a presence of both Tall Timbers and Quail Forever in SC, and look forward to a productive partnership. Successful implementation of the SCBI is going to require all the resources we can muster to put toward the effort.
---
DNR Media Contacts
After Hours Radio Room - 803-955-4000
More News