Deer hunts for mobility impaired hunters to be held in Upstate
August 22, 2017
The deadline to apply for two Upstate deer hunts for mobility impaired hunters is Sept. 11.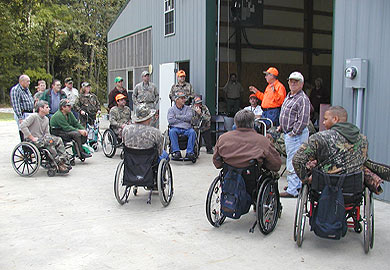 Mobility impaired deer hunters will have an opportunity to attend two Upstate deer hunts this fall, co-sponsored by SCDNR. (SCDNR photo)
Mobility impaired deer hunters will again be treated to a unique opportunity to attend two special deer hunts this year. The hunts are scheduled for Oct. 27-28 in Cherokee, Spartanburg, and Union counties, and on Nov. 3-4 in Laurens and Newberry counties.
Applications are available at the South Carolina Department of Natural Resources (SCDNR) website at www.dnr.sc.gov/hunting/mobilityhunt.html. Completed applications must be received at the Union SCDNR Office by 5 p.m. Monday, Sept. 11. For more information, call the Union SCDNR office at (864) 427-5140 or visit www.dnr.sc.gov/hunting/mobilityhunt.html.
Applicants may apply for one or both hunts. There is no application fee or other cost associated with these hunts. Hunting will take place on Friday afternoon and the following Saturday morning of each hunt. Hunters will meet their hosts at a noon lunch on Friday and will then disperse to their assigned hunt sites.
Applicants are restricted to persons who are permanently and severely mobility impaired. These include only those who are permanently confined to a wheelchair, persons permanently requiring the use of a mechanical aid (walker. braces, cane, etc.) to walk, or persons with complete single or double leg amputations. Each hunter may be accompanied by one other person who can assist them in a non-hunting capacity only.
These special hunts are co-sponsored by SCDNR, which will handle the application process and notification of successful hunters. A number of generous landowners and managers will accommodate hunters on their properties this year during these special hunts.
A number of organizations are also co-sponsoring these events through financial support or assistance in various other ways. These co-sponsors include the Harry Hampton Memorial Wildlife Fund, Georgia Pacific Corp., Carolina's Fence Association, South Carolina Disabled Sportsmen, Paralyzed Veterans of America, Sprinkle Prosthetics, the Upstate Warrior Solution, South Carolina Wildlife Law Enforcement Officers Association and the SCDNR's Take One Make One program (www.dnr.sc.gov/education/tomo/index.html.) There are also a significant number of volunteers whose assistance is vital to the success of these events.
---
DNR Media Contacts
After Hours Radio Room - 803-955-4000
More News