Highway 41 Bridge Removed in First Step Toward New Deep-Water Reef
August 22, 2017
Since 1939, a steel swing bridge has carried cars passing between the Francis Marion National Forest and Mount Pleasant over the Wando River.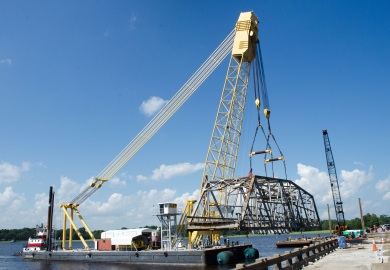 The steel swing bridge over the Wando River is slowly lifted out of place. (Photo: Cameron Rhodes)
Yesterday marked the twilight of its life as a bridge and the start of a new journey. As vehicles sped past on the newly opened replacement bridge in the afternoon, the old steel swing bridge was lowered slowly by crane onto the back of a barge.
Now, the 168-foot bridge is destined for a new life as an artificial reef 50 miles off the coast of Charleston. There, in over 300 feet of water, it will become part of the South Carolina Memorial Reef, providing habitat for fish and sea life on what was formerly a sandy stretch of seafloor.
The Memorial Reef fund was started by an independent group of anglers who wanted to honor the memory of late family and friends through the construction of an artificial reef. The South Carolina Governor's Cup Advisory Board of Directors, working in conjunction with the South Carolina Department of Natural Resources (SCDNR), have helped facilitate construction of the Memorial Reef, which is a part of the permitted Marine Protected Area called the Charleston Deep Reef.
The first structures placed at the reef in 2014 "two retired barges piled high with shipping containers, truck chassis, and radio towers" have already had great success attracting fish such as snowy grouper and large billfish such as blue marlin and sailfish.
"The large number billfish caught and released in and around the South Carolina Memorial Reef this summer has been unprecedented," said Amy Dukes, tournament coordinator for the Governor's Cup Billfishing Series. "There's so much life in that area, and the bridge is just going to make it more alive."
The bridge section is lowered onto a waiting barge.
(Photo: Cameron Rhodes)
From here, the bridge will undergo a careful cleaning process. All artificial reef structures placed by the SCDNR are stripped and cleaned to protect the marine environment. The cleaned bridge will then be welded to a 130-foot retired barge, adding complexity to the reef structure and providing 44 feet of vertical relief. Finally, the completed structure will be sunk in several hundred feet of water at the South Carolina Memorial Reef site by late summer 2017.
"We're really excited to add new structure to this protected site," said SCDNR artificial reef coordinator Robert Martore. "The previous barges have been functioning so well in attracting deep water grouper species, additional material will only add to the area's productivity."
With an estimated cost of $180,000 to purchase, clean, and transport the structure, the project's completion will depend on contributions from conservation groups and private individuals. Learn more about the project and how to make a tax-deductible contribution at https://scmemorialreef.com.
---
DNR Media Contacts
After Hours Radio Room - 803-955-4000
More News