William Armfield honored as Certified SCDNR Fishing Instructor of the Year
December 15, 2017
William "Billy" Armfield of Newberry, S.C., has been named the Certified SCDNR Fishing Instructor of the Year.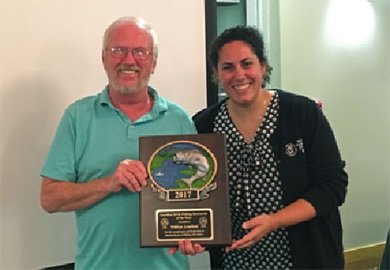 SCDNR Aquatic Education Coordinator Sarah Chabaane presents William "Billy" Armfield with the Certified SCDNR Fishing Instructor of the Year award.
Each year, the South Carolina Department of Natural Resources trains freshwater anglers to become Certified SCDNR Fishing Instructors for the agency's Aquatic Education section. These instructors lead the SCDNR family fishing clinics, which are designed to introduce the basics of freshwater fishing to people of all ages. Participants learn how to tie fishing knots, rig rods, cast and fish. The intention of the family fishing clinics is to introduce participants with little or no angling experience or those who need a refresher to the basics of fishing to increase their future participation in the sport.
The 5th Annual Certified SCDNR Fishing Instructor Banquet was hosted at River Center in Saluda Shoals County Park on Dec. 12 to thank the instructors for their hard work and dedication. Since the inception of the volunteer program in Oct. 2011, 188 people have been trained as volunteers. Armfield joined that group after he was trained on Jan. 25, 2014. In 2017, volunteers provided 38 family fishing clinics reaching 878 participants with 1,596 hours of volunteer time.
"William (Billy) has endless energy," SCDNR Aquatic Education Coordinator Sarah Chabaane said. "Working with him means you're going to have fun day. He is dedicated to his community and shares his love of the outdoors with all he encounters. Billy is an avid striper fisherman and introduces many to the sport. He contributes greatly to the program with energetic can-do spirit!"
Armfield participated in ten fishing-related events in 2017, including family fishing clinics, the Palmetto Sportsmen's Classic, the Forrest Wood Cup, and youth fishing rodeos. He has logged 76 volunteer hours.
Those interested in becoming a Certified SCDNR Fishing Instructor should visit the website to learn about upcoming trainings.
---
DNR Media Contacts
After Hours Radio Room - 803-955-4000
More News