SCDNR, SCBS partner for bluebird conservation
February 10, 2017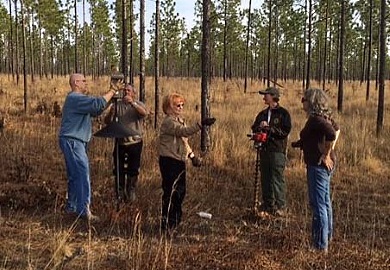 SCDNR and SCBS place bluebird nest boxes at Aiken Gopher Tortoise Heritage Preserve.
The South Carolina Department of Natural Resources (SCDNR) and the South Carolina Bluebird Society (SCBS) have partnered for the purpose of bluebird conservation. On Feb. 7, 2017, members of SCDNR and SCBS placed 20 bluebird nest boxes along a predetermined route at Aiken Gopher Tortoise Heritage Preserve. According to SCDNR Region Three Heritage Preserve Biologist Barry Kesler, this partnership will produce opportunities that will contribute to bettering life for several species of birds here in South Carolina.
"I am extremely excited about this conservation partnership and the opportunities that lie ahead," Kesler stated. "One of the main limiting factors for cavity-nesting birds is a lack of available cavities. These boxes will provide nesting cavities for not only bluebirds, but other species such as brown-headed nuthatches that depend on similar habitats."
SCBS, a 501(c)3 non-profit, was established in Aiken in 2010 with dedication to the recovery and conservation of the Eastern Bluebird and other cavity-nesting birds native to South Carolina and elsewhere . It is the first North American Bluebird Society (NABS) Affiliate to be organized in South Carolina, and it has installed and currently monitors 766 bluebird, wood duck, screech owl and kestrel nest boxes at 71 locations. SCBS promotes bluebird conservation projects among its members and other interested groups, conducts educational programs and workshops, encourages and aids in the development of nest box trails, and collects and shares nesting data for analysis and research.
---
DNR Media Contacts
After Hours Radio Room - 803-955-4000
More News