15 counties see improvement in drought statuses
February 2, 2017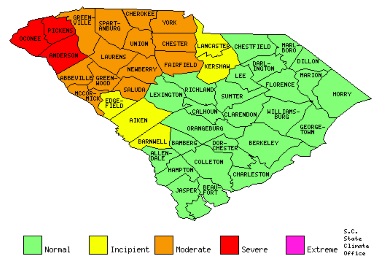 Updated county drought statuses as of 2/2/17
Due to adequate winter rainfall for portions of South Carolina, the S.C. Drought Response Committee has updated the drought statuses of 15 counties.
All counties in the northeast region maintained their current statuses of normal (no drought) or incipient. Richland and Lexington counties, located in the central region of the state, were downgraded to normal status, while the rest of the counties in that region maintained their current statuses of moderate or normal. All of the counties in the southern region were downgraded from incipient to normal. McCormick and Abbeville counties, located in the Central Savannah region, maintained moderate status, Edgefield, Aiken and Barnwell counties were downgraded to incipient, and Allendale and below were downgraded to normal status.
"We voted to downgrade the drought for many counties due to increased rainfall over the last 30 to 60 days," Colleton County Soil and Water Conservation District Commissioner Emeritus Marion Rizer said. "Ironically, we are not able to get into the fields to fertilize small grains and to make preparations for spring planting because soil moisture conditions are too wet in some areas."
But due to potential fire hazards and lack of moisture, Oconee, Pickens and Anderson counties have remained in severe drought status. According to S.C. Forestry Commission Forest Protection Chief Darryl Jones, the wildfire activity in November was 94 percent higher than the five-year average. The Pinnacle Mountain Fire burned 10,623 acres in Pickens and Greenville counties before it was controlled, and fire costs exceeded $5 million. Recovery work, including firebreaks rehabilitation and clearing of trails, is ongoing.
"As we enter our traditional wildfire season, fine fuels are very dry and wildfire occurrence has been increasing," Jones stated. "When frontal passages bring low relative humidity and higher winds, we do expect to have periods of high wildfire activity, and we expect it to continue until green-up begins in late April or early May."
Hydrologic conditions have slightly improved in much of the Upstate over the past two months, but streamflow and lake levels remain well below normal in many areas, with the driest conditions occurring in the upper Saluda and Savannah basins.
"These below-normal levels offered support for keeping counties in the Piedmont in their current moderate or severe drought designation," SCDNR Hydrologist Scott Harder said. "Streamflow levels in the Coastal Plain are well within a normal range for this time of year, which supported a downgrade in drought status from incipient to normal for many counties in this area."
The committee will meet again within the next eight weeks unless weather conditions require members to gather sooner.
For questions regarding the committee and changes made to county drought statuses, contact SCDNR State Climatologist Hope Mizzell at MizzellH@dnr.sc.gov.
Click here for a full-sized version of the updated drought status map.
---
DNR Media Contacts
After Hours Radio Room - 803-955-4000
More News