Hunters encouraged to get turkey tags now
February 9, 2017
It's time to get turkey tags! In order to legally hunt turkeys, all hunters, including hunters under the age of 16, must possess a set of turkey tags.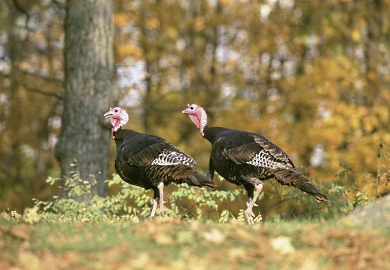 Photo courtesy of U.S. Fish & Wildlife Service
Tags are available over the counter at South Carolina Department of Natural Resources (SCDNR) offices located in Charleston, Clemson, Columbia (State Farmer's Market), Florence, and York. Tags can also be ordered online, or applications can be printed and mailed.
Hunters should remember to specifically request their turkey tags each year when they get their hunting license. Hunters who buy their license from a point-of-sale vendor or by telephone should request their tags at the time of purchase. For internet customers, turkey tags may be selected from the list of privileges that are available. Tags are mailed in February prior to the start of turkey season each year. This year, tags that were pre-ordered were mailed Feb. 3-8. Tags ordered thereafter will be mailed the next business day and will arrive four to seven days later. If a hunter has not received tags by March 1, he/she should check the status of the tags by calling 803-734-3833.
Hunters can tell if tags should be received by mail if "Seasonal Wild Turkey Tags" is printed on the hunting license.
Hunters ages 16 and older must also possess a hunting license and a big game permit. Hunters may not possess more than one set of turkey tags and all harvested birds must be tagged prior to being moved from the point of kill.
Turkey season dates for private lands are March 20, 2017, to May 5, 2017, statewide. The statewide bag limit is three gobblers per hunter with no more than two taken in one day. For all Wildlife Management Areas (WMAs) where turkey hunting is allowed, the season is April 1, 2017, to May 5, 2017. Those wanting to hunt on WMAs should consult the annual state regulations guide for seasons and bag limits on specific WMAs as those seasons and bag limits may be more restrictive.
---
DNR Media Contacts
After Hours Radio Room - 803-955-4000
More News