Duke Energy supports natural resources conservation
January 24, 2017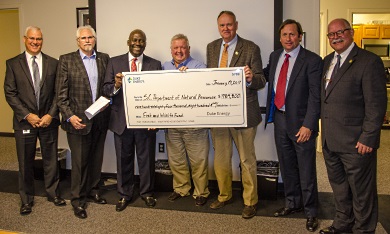 Duke Energy executives present SCDNR officials with a check for $984,800, January 19, 2017 in Columbia. From left to right: Duke Energy Director of Environmental Policy and Affairs, Mike Ruhe, Duke VP for Water Strategy and Hydro Relicensing Steve Jester, Duke State President for S.C. Kodwo Ghartey-Tagoe, Duke Senior Project Manager Mark Oakley, SCDNR Director Alvin Taylor, S.C. Natural Resources Board Chairman Cary L. Chastain and SCDNR Director of Environmental Programs Bob Perry. [SCDNR photo by D. Lucas]
Executives from Duke Energy presented the S. C. Department of Natural Resources with a check for $984,800 at the South Carolina Natural Resources Board meeting held January 19th in Columbia.
The money provided by Duke will be used to support enhancement of fish and wildlife populations, including rare, threatened or endangered species within the Catawba-Wateree River Basin; biodiversity protection and enhancement; environmental outreach programs; and/or the purchase of land in the Catawba-Wateree River Basin for conservation, wildlife and/or compatible public recreation. The funding agreement was reached as a part of the Comprehensive Relicensing Agreement (CRA) for Duke's Catawba-Wateree hydroelectric project.
SCDNR Director Alvin Taylor and SCDNR biologist Bob Perry, Director of the agency's Office of Environmental Programs, commended Duke Energy's long-standing commitment to natural resources conservation and fruitful partnership with the SCDNR on these and other projects.
"We have a long history of working cooperatively with Duke Energy," Perry said. "We are very grateful for our partnership with Duke Energy whereby they have provided significant commitments to science-based water management, as well as protection of fish and wildlife resources, special species and habitats, and increased public use opportunities."
Additional funding from Duke Energy in April 2016 enabled the SCDNR's acquisition of the Liberty Hill Wildlife Management Area (WMA). The 8,000-acre property includes more than 17 miles of waterfront along Lake Wateree and the Catawba River, and is managed to provide quality natural resources-dependent recreational opportunities for the public. Hunting, hiking, and wildlife observation are among the more popular activities enjoyed by visitors to Liberty Hill since its opening.
"Liberty Hill (WMA) would not have been possible without Duke Energy providing the final piece of necessary funding," Taylor said.
According to Duke Energy, the company's Catawba-Wateree Project, which includes a number of reservoirs in South Carolina, provides 819 megawatts of power, which on average is enough electricity to power 103,000 homes. The lakes associated with the project provide a reliable supply of cooling water for Duke Energy's fossil and nuclear power plants. In addition to the power provided by these stations, the reservoirs provide the region with public water supplies, opportunities for public recreation, and fish and wildlife habitat. More information about the project can be found at www.duke-energy.com.
Media contact: David Lucas
(843) 610-0096
---
DNR Media Contacts
After Hours Radio Room - 803-955-4000
More News