Herbicide Treatment Notice: Waccamaw River
July 20, 2017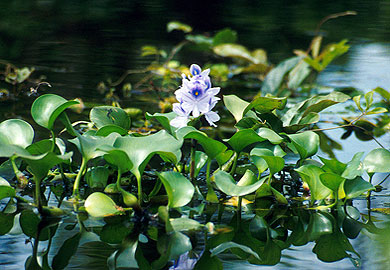 Water hyacinth is an invasive aquatic plant that occurs sporadically throughout the state with the major concentrations in the coastal plain. It is illegal to purchase, sell, possess, propagate or distribute this plant. SCDNR photo
The South Carolina Department of Natural Resources (SCDNR) is planning to treat portions of the Waccamaw River with the EPA registered aquatic herbicide "Renovate®." The treatment is scheduled to take place between July 24th and August 14th.
The treatment is designed to manage water hyacinth, an invasive aquatic floating plant that out-competes native plants, reduces fish habitat, and impedes recreational and commercial use of the river. The treatments will be taking place in sections of the Waccamaw River from south of U.S. Highway 501 downstream to Enterprise Landing at the confluence with the Intra-Coastal Waterway. River users who plan to be on the water during this time period are urged to be on the lookout for the SCDNR airboats applying the herbicide. It is recommended that no boat wake be created in treatment areas at the time of application. Boaters traveling on the Waccamaw near the affected areas are asked to please maintain a safe distance away from airboats used to apply the treatment during these targeted applications. There are no use restrictions for recreational use of water in the treatment area following treatment, including fishing, fish consumption, and swimming.
For more information about the SCDNR's role in managing aquatic invasive species, visit the web page for the agency's Aquatic Nuisance Species program at: https://www.dnr.sc.gov/invasiveweeds/index.html.
For additional information about the species water hyacinth (Eichhornia crassipes) visit: https://www.dnr.sc.gov/invasiveweeds/hyacinth.html.
Contact:
Chris Page, SCDNR Aquatic Nuisance Species Program Manager
2730 Fish Hatchery Road
West Columbia, SC 29170
pagec@dnr.sc.gov or (803) 755-2836
---
DNR Media Contacts
After Hours Radio Room - 803-955-4000
More News