June 15 deadline to apply for 2017 public alligator hunting & special WMA season fast approaching
June 12, 2017
The deadline to apply for the S.C. Department of Natural Resources (SCDNR) online applications for the 2017 Public Alligator Hunting season and the Wildlife Management Area (WMA) Alligator Hunting Season is 11:59 p.m. on June 15.
Applications are accepted online at www.dnr.sc.gov/wildlife/alligator/index.html.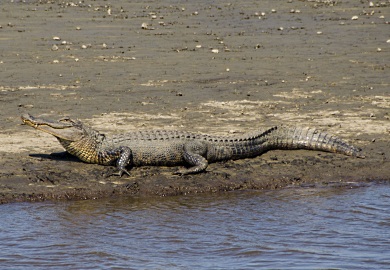 An adult American Alligator basks in the sun at the SCDNR's Bear Island WMA. It is estimated that more than 100,000 alligators live from the Midlands to the coast of South Carolina. Last year, hunters took 394 alligators during the public alligator hunting season, with the average size being nearly nine feet in length. SCDNR photo by David Lucas
A $10 nonrefundable application fee is required to apply for the Public Lands Hunt, and a $15 nonrefundable application fee is charged to apply for the WMA Alligator Hunt. A randomized computer drawing based on a preference point system determines the selection of hunters. Applicants can only apply and pay fees online or at one of the walk-up counters at an SCDNR Regional Office in Clemson, Florence, Columbia, or Charleston. No paper applications will be accepted. This year's season will begin at 12 p.m. (noon) on Sept. 9 and run until 12 p.m. (noon) on Oct. 14.
One thousand permits are available for the Public Lands Alligator Hunt, and the coastal plain is divided into four alligator management units with 250 permits allocated for each unit (1,000 total). Applicants can select the option to be considered for any number (or all) of the units, but the issued permit will only allow them to hunt in one unit per season. If selected, a $100 fee for the permit and one harvest tag is required to be paid online through the same online alligator hunting application system. All selected hunters and assistants must have a hunting license, and if a nonresident, must pay the nonresident alligator hunting fee. Unsuccessful applicants will accumulate preference points for future alligator hunt drawings. Preference points add to the likelihood of being drawn in future years. All hunters will be notified via email beginning in mid-July of their selection status.
The WMA Alligator Hunt is a special draw hunt, in which the person selected will be permitted to take up to three assistants and have access to either portions of Bear Island WMA or Santee Coastal Reserve WMA for one hunt period (Monday at noon to Saturday at noon). There are four available hunt periods during the WMA alligator hunting season. The cost for the WMA Alligator Hunting Permit, if selected, is $500 for residents and $800 for nonresidents. There are two available permits for each hunt period on both Bear Island WMA and Santee Coastal Reserve WMA, for a total of four hunters (plus assistants) per week, and 16 total available permits per season. All WMA hunters and assistants must have a hunting license, WMA permit, and if a nonresident, pay the nonresident alligator hunting fee. In addition, there is the availability of a second WMA tag for an alligator from 4-7 feet in total length. The second WMA tag may be used by anyone in the hunt party provided the person to whom the tag was originally issued is present. The cost for the second WMA tag is $75, in addition to all other fees and must be purchased at the same time as the first tag. The additional WMA tag is only valid during the chosen week for the selected WMA property.
By law, the fees collected are used to support the Alligator Management Program's research and management activities, and for conservation of the American Alligator in South Carolina.
Please check the SCDNR alligator hunting website at www.dnr.sc.gov/wildlife/alligator/index.html for any changes, updates, and general alligator hunting information.
---
DNR Media Contacts
After Hours Radio Room - 803-955-4000
More News