DNR News
Public reminded not to handle, move wildlife
June 27, 2017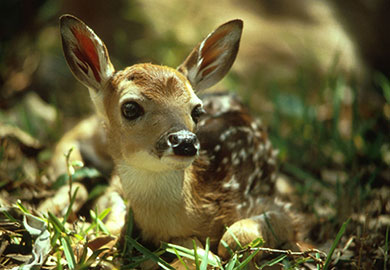 Photo courtesy of U.S. Fish and Wildlife Service.
A lot of wildlife makes appearances during the summer season, and it is not uncommon for people to come across these animals while out and about. The South Carolina Department of Natural Resources (SCDNR) wants to remind everyone that the best thing to do when one comes across wildlife is to leave it alone and contact the appropriate people should the animal be in distress or human lives be in danger.
A recent media report claimed people encountered a Midlands alligator and were planning to release the animal into another environment down on the coast. While this story may have been fabricated, incidents of people moving wildlife do occur and, while it is believed many people who handle wildlife have the best of intentions, it is against the law to take and possess certain kinds of wildlife.
"If anyone is having a problem with an alligator, or just wants more information, they should contact SCDNR before trying to take matters into their own hands," SCDNR Furbearer & Alligator Program Coordinator Jay Butfiloski said. "Not only can subsequent violations result in substantial fines, but there is the potential for someone to get hurt."
Taking and possessing an alligator without a permit is illegal under state law and is punishable by a fine of not less than $500 and no more than $2,500, or imprisonment for 30 days, or both. Also, the court may order restitution for any alligator taken, possessed or transferred. It is also unlawful to feed, entice, or molest an alligator except as permitted under state and federal law.
SCDNR wants to keep both human and animals lives safe, and asks the public let the agency handle matters regarding wildlife.
To report wildlife that appears to be in distress, call the following numbers:
Columbia: 803-734-3886
Clemson: 864-654-1671
Charleston: 843-953-5291
Florence: 843-661-4768
---
DNR Media Contacts
After Hours Radio Room - 803-955-4000
More News