DNR News
Sunflowers decorate acres of Draper wildlife area in York County
June 29, 2017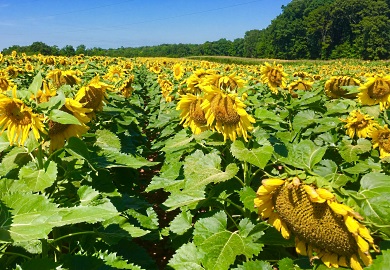 Sunflowers at SCDNR's Draper Wildlife Management Area in York County are putting on a floral display for the next week, and visitors are encouraged to come by and have a look. (Photo(s) by Pat Miller)
The Draper Wildlife Management Area (WMA) in York County is experiencing another full bloom with acres of gorgeous sunflowers, with flowers in peak this week through the holiday weekend. The area is open during daylight hours year-round and admission and parking are free.
South Carolina Department of Natural Resources (SCDNR) Wildlife Biologist Andrew Hook says the sunflower seeds are planted in April. "Although we plant the fields to attract doves for the fall hunting season," he said, "it gives us great satisfaction to see the smiles of awe and wonder on the faces of children and adults of all ages at this magnificent site." The peak blooming time generally is around July Fourth, give or take a week depending on the weather. The sunflowers generally remain in bloom for about 10 days.
Draper WMA, sometimes referred to as the Brattonsville Tract because of its proximity to the community of Brattonsville, consists of 806 acres and lies about 10 miles south of the town of York. The property is located at 1080 Brattonsville Road, south of State Road 322 and west of Secondary Road 165 or Brattonsville Road, bordering Love Creek to the south. Visitors can park in the main parking area and walk to two sunflower fields. Access the fields by walking in either of the two gates at the parking area. The gate to the right across the pond dam is the shortest walk, less than five minutes, but is a smaller field. The gate to the left will require about a 10-minute walk to the largest field. Visitors can access the fields any day and are encouraged to wear insect repellent and sunscreen.
Draper WMA is managed specifically for small game; however, good white-tailed deer and wild turkey populations are also present. Special seasons and/or bag limits apply for dove, quail, rabbit and turkey. There are two dove fields on the property, one youth field and one adult field.
Although managed for hunting, other forms of outdoor recreation such as hiking, biking and bird-watching are popular because of Draper WMA's proximity to Rock Hill and Charlotte, N.C. No horseback riding is allowed. The property contains three stocked ponds and special fishing limits and open times apply.
Any commercial activities related to WMA lands require a permit from SCDNR. Visitors are subject to being fined for WMA abuse for any damages to the property. Please respect the property for the enjoyment of all visitors. For specific questions related to the property, call (864) 427-5140.
---
DNR Media Contacts
After Hours Radio Room - 803-955-4000
More News