Council helps raise awareness of the importance of prescribed burning
March 1, 2017
Gov. Henry McMaster has proclaimed March Prescribed Fire Awareness Month in South Carolina. The governor's proclamation was requested by members of the South Carolina Prescribed Fire Council, a coalition of state, federal and non-governmental land management organizations, including the S.C. Department of Natural Resources and the S.C. Forestry Commission. The SCPFC works to raise awareness of the essential role that fire plays in both the stewardship of our natural resources and the protection of lives and property, an effort that has met with some success over the past few years, according to SCDNR Heritage Preserve Manager Johnny Stowe.
"The success of the SC Prescribed Fire Council and the 'good fire' community is clearly evident over the last few years," said Stowe. "When I encounter visitors to our SCDNR heritage preserves during prescribed burns, they seldom ask anymore why we are burning the woods; instead, they often remark how cool it is, and say they are anxious to come back when it greens up, to see the wildflowers, to hunt quail and other game, and that it is good to see us restoring the fire-culture of the Southland. The word has spread about the benefits of prescribed fire, and this proclamation helps that effort tremendously."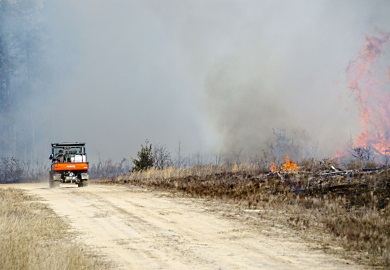 S.C. Department of Natural Resources technicians use an ATV to oversee a prescribed fire at the James Webb Wildlife Center in February 2017. SCDNR photo by D. Lucas
Prescribed fire is one of the primary and least expensive wildlife habitat management tools available to managers of SCDNR lands, and in addition to the ecological and cultural benefits, regular burning increases timber quality on those properties, enhances populations of some important endangered species, and by reducing fuel loads, it enhances public safety, added Stowe.
Prescribed fires help restore and maintain vital habitat for wildlife, including bobwhite quail and other grassland birds, wild turkeys, white-tailed deer, gopher tortoises, and red-cockaded woodpeckers. Besides the many wildlife species that require fire-dependent habitat, many plants thrive only in regularly burned forests. The demise of the longleaf pine forest and associated grasslands, which once made South Carolina one of the best quail hunting states, is tightly correlated to the decrease of woods-burning. Also, plants like the insectivorous pitcher plants, sundews, and Venus' fly trap - as well as many other plant species, some of them rare - require frequent fire.
While prescribed burning cannot stop all wildfires, it is the best management tool available for preventing larger and more frequent outbreaks. "Prescribed burning is not only the most effective, economical protection against wildfires because it reduces accumulated fuels," said McMaster in his proclamation, "but it is also a key tool in managing and maintaining the ecological integrity of South Carolina's woodlands, grasslands, agricultural areas and wildlife habitats.
For more detailed information about the many benefits of prescribed burning please visit this page on the SCDNR website.
---
DNR Media Contacts
After Hours Radio Room - 803-955-4000
More News