Boating Infrastructure Grant Workshop on April 13
March 6, 2017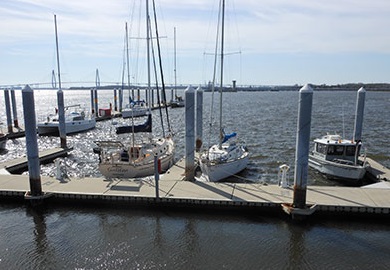 Cooper River Marina - 2002 - Tier II BIG Project
The S.C. Department of Natural Resources (SCDNR), in partnership with the U.S. Fish & Wildlife Service, administers the National Boating Infrastructure Grant Program (BIG) in South Carolina.
The BIG program provides grant funding to construct, renovate, and maintain tie-up facilities with features for transient boaters in vessels 26 feet or more in length. Examples of eligible infrastructure that may be funded include floating docks, fixed piers, breakwaters, fueling stations, and dockside utilities.
In an effort to educate and inform potential grant recipients on the goals of the program, grantee eligibility, program deadlines, and allowable projects, SCDNR staff will be hosting a Boating Infrastructure Grant Workshop on April 13th, 2017 from 1:00-3:00PM.
The workshop will be held at the SCDNR Marine Center located at Ft. Johnson in Charleston, South Carolina (Directions: https://www.dnr.sc.gov/marine/mrri/directions.html).
Although the workshop is free, we ask that those interested in attending please register to help us anticipate the level of attendance. Please register using the following link: https://www.surveymonkey.com/r/BIG-Workshop-2017.
Participants are asked to review the published rules and requirements of the program prior to the workshop. Information can be found at: https://www.dnr.sc.gov/marine/big/resources.html
If you have any questions, or would rather register over the phone or email, please contact Scott Meister at 843-953-9062 or MeisterS@dnr.sc.gov.
---
DNR Media Contacts
After Hours Radio Room - 803-955-4000
More News