Wappoo wake zone to be extended
March 7, 2017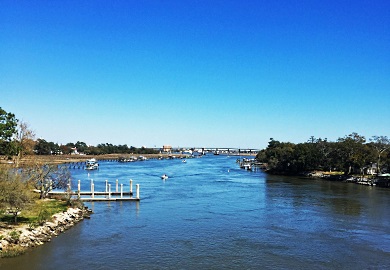 The Wappoo wake zone is one of the busiest stretches of water in the state
Due to increased boating traffic, the South Carolina Department of Natural Resources (SCDNR) is extending the Wappoo wake zone of the Intracoastal Waterway in Charleston County.
The seasonal wake zone will be extended north to about 200 yards south of the James Island connector bridge, and south to the entrance of Coburg Creek. The extension will be in effect April 15, 2017, through Sept. 15, 2017. The normal wake zone will remain in effect until April 15 and will start again after Sept. 15.
This is one of the busiest stretches of water within the entire state, and law enforcement wants to minimize the risk for accidents.
"This is a popular area because there are two public boat landings within one mile of each other," SCDNR Cpt. Donnie Pritcher stated. "The traffic has grown tremendously over the years and we want to keep people safe."
For questions regarding the wake zone extension, contact the SCDNR law enforcement investigations office at 843-953-9378.
---
DNR Media Contacts
After Hours Radio Room - 803-955-4000
More News